Alumni
A Day in the Life with Hannah Biondi
Director of Original Programming, Development at DAZN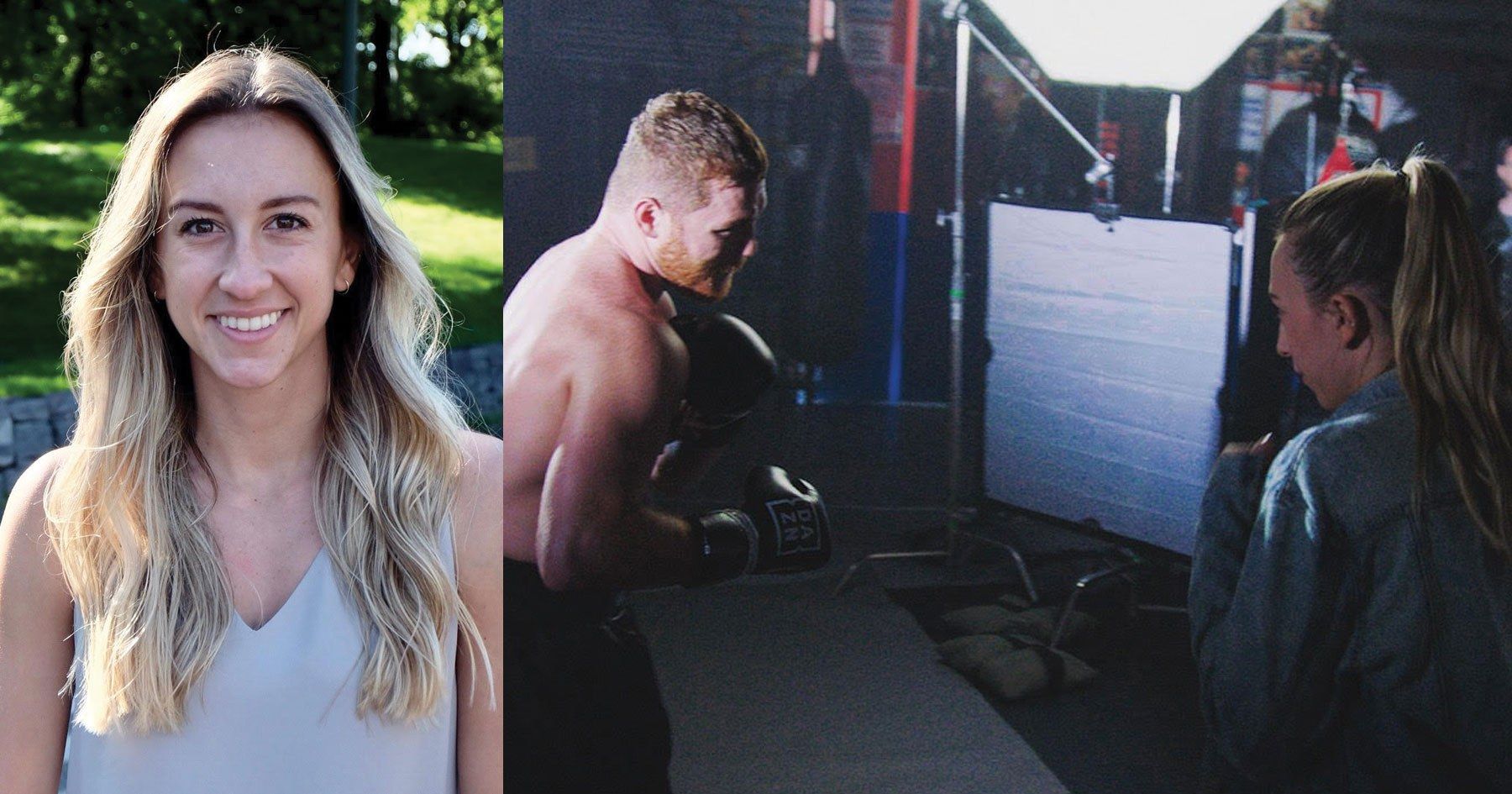 Many sports fans, especially those who enjoy boxing, would love to live a day in the life of Hannah Biondi. From production pitches and meetings with sports agents, to the whirlwind travel schedule that keeps her bouncing from coast to coast, Biondi ('14 Ad/PR) has applied her Penn State degree toward a unique career path. And if you're wondering exactly what that looks like, she graciously shared every detail with us (while on a plane to San Diego nonetheless)!
Start Strong
My morning routine is my favorite part of my day. I try to start my day at 5:30 a.m. with a workout; however, that only happens when I'm not jet lagged from a ton of travel. Following my workout and shower, at around 7 a.m., I have coffee with my boyfriend and skim through my emails from overnight. We use our morning as a catch-up time because both of us often have things going on in the evening. After hanging for a bit, I get ready for work and am out the door between 8 and 8:15 a.m.
An Adventure Every Day
Every day for me is different. I'm rarely in the same city, building or office. As someone who has become truly "bicoastal" I generally split my time between New York and L.A. I work from our office at 1 World Trade Center in New York City, as well as from hotels or coffee shops in Los Angeles, boxing gyms all over the country and sometimes arenas or stadiums.
In addition to my frequent travel and due to the global nature of my company, my hours change often. I generally start working on clearing my inbox at 7 a.m. to catch up on the emails that came in over night. I get to the office around 9 a.m., work until 6 p.m. and occasionally continue emails when I get home. I am also pretty much always available for athletes, producers and production partners that I work with on a daily basis.
On any given day I could be working on presentations, in planning meetings with other teams across the company, hearing pitches from production companies, meeting with potential executive producers or their agents, or visiting our athletes at their gyms. A big part of my role is to get to know the external people we work with and create content with to make sure everyone is happy and we are putting out the best product we can.
Making connections and keeping great relationships is one of my favorite things I do and I'm lucky to get to work with everyone from internal teams to agents, athletes, celebrities, producers, directors, production companies, executives and more every day.

Outside of Work
When not at work, I love to work out and do things outside. My favorite workout is boxing, so I try to get that in as often as possible. Also, due to my hectic travel schedule I don't get too much time in New York. So when I'm here, I spend it getting brunch or drinks with my friends and bouncing around
my neighborhood.
Q&A with Hannah
What was your field of study at Penn State and how did it lead you to this career path?
I studied public relations and integrated art. My public relations degree taught me how to be a great communicator, while my art degree helped grow my creativity to be able to work in the content field.
Where's your hometown and where do you call home now?
My hometown is Pittsburgh. I now consider New York City home. (Don't tell my mom.)
What's your best Penn State memory?
In college I worked in the recruiting department for the football team. My best Penn State memory is sitting at the "whiteout" game against Michigan in 2013 with one of football's top recruits at the time. Seeing Allen Robinson make the insane touchdown catch, hearing the recruit sing the alma mater at the end of the game and realizing he would likely commit to Penn State. He later committed to play for Penn State and now plays in the NFL.
What made you choose Penn State and how has this impacted where you are now?
I chose Penn State because it was a big athletic school, with a lot of options and opportunity. Without the network that Penn State has given me, I wouldn't be where I am today. Two of my three jobs I've had since I've been out of school were brought to me, or helped along by, other Penn Staters! A network is everything and we've got the best one!
What was the most valuable lesson you learned from an internship?
I definitely made mistakes as an intern and the biggest thing I learned every time was, "Oh, that's not right. Never make that mistake again." That being said, the biggest lesson to be learned is if you mess something up it's not the end of the world. You can fix it and move on, but don't make the same mistake twice.
As a new member of the Alumni Society Board, how do you wish to impact the Bellisario College's alumni network?
I hope to make an impact in driving alumni (and students!) to connect and get to know one another. Relationships and networks are the best part of my job and I hope to continue to grow the extremely strong bond Penn Staters already have to continue to lift each other into amazing roles and opportunities.

Finally, what advice would you give to your college freshman self?
Don't work too hard. The real world is way harder and you will never have that college schedule again.