Filter by year:
We'll add a year on either side to help you find more of your peers.
2013 Journalism
Erin Clark
a staff photographer for The Boston Globe, was a Pulitzer Prize finalist in Feature Photography in 2020 for her respectful and compassionate photography of a working Maine family as it falls into homelessness and finds new housing, albeit precarious.
Before joining the globe, Clark lived in Philadelphia and serves as an AmeriCorps VISTA member before freelancing for various publications.
Note Posted: June 18, 2020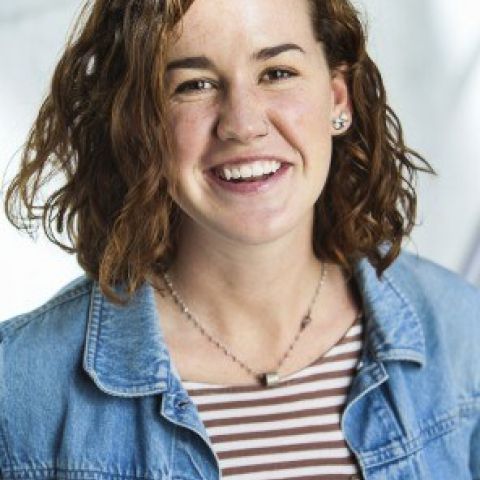 1981 Journalism
Katy Koontz
was honored twice last fall during the Folio: Show, an annual event in New York City that focuses on excellence in magazine publishing.
She won a 2019 Folio: Eddie Award for her editor's note in the March/April 2019 issue of Unity Magazine, and she was also named to the 2019 Folio: 100 list, which "shines a spotlight on those who have truly made a significant impact on their company or the industry." Koontz has been the editor of Unity Magazine for the past six years.
Note Posted: June 18, 2020
2012 Journalism
Jocelyn Brumbaugh
was hired by Hearst Television in December 2019 as a digital curator for the national news desk located at WTAE in Pittsburgh.
The team publishes and syndicates national news for more than two dozen Hearst stations across the U.S. and also handles social media posts, push alerts, live streaming and special projects for those stations. She departed print journalism with seven years of experience, the last four years as the Cambria County courthouse/government reporter at The Tribune-Democrat in Johnstown, Pennsylvania.
Note Posted: June 18, 2020
1993 Journalism
David Wojciak
was named director of communications at Lincare, the leading U.S. provider of respiratory care in the home. Wojciak, who joined the company in July 2018, leads the Lincare communications function, with a focus on supporting executive and HR communications as well as overall employee engagement. He owns the end-to-end communications process in collaboration with business leaders and provides creative design and content for the intranet portal. He also develops plans to support and partner with communities.
Note Posted: June 18, 2020
2011 Journalism
Ashley Gold
is a Washington reporter for The Information, a San Francisco-based news startup that writes exclusive stories about the tech industry. Previously she held roles at POLITICO and the BBC.
Note Posted: June 18, 2020
2012 Advertising/Public Relations
Tiffany Ng
works as a sales associate at WPXI-TV in Pittsburgh.
Note Posted: June 18, 2020
1995 Journalism
Rob Macko
was named primary news anchor at WOWK-TV (CBS) in Charleston-Huntington, West Virginia, in September 2019. He was previously primary anchor at KLFY-TV (CBS) in Lafayette, Louisiana, from 2014-2019.
Note Posted: June 18, 2020
2003 Advertising/Public Relations
Jennifer Bullano-Ridgley
was promoted to VP of media relations with the Pittsburgh Penguins. She has been with the team for 14 seasons.
Note Posted: June 18, 2020
1989 Journalism
Katherine Boyd
marked her third anniversary as weekend host on SiriusXM Classic Vinyl in February 2020. Boyd's classic rock show broadcasts live across North America on SiriusXM Radio, Channel 26, and around the world on the SiriusXM App. SiriusXM has more than 33 million subscribers. Boyd broadcasts live each weekend from the studio is the heart of the Rock and Roll Hall of Fame in Cleveland. Fans are invited to stop by the Rock Hall and watch her in action Saturdays and Sundays from 12-6 p.m. She can also be followed on Facebook, Twitter and Instagram at @KatBoydRocks.
Note Posted: June 18, 2020
2015 Journalism
Kevin France
writes scripts for Fox News affiliates across the nation in New York City.
Note Posted: June 18, 2020
2010 Advertising/Public Relations
Brittany Sykes
recently launched her own PR firm, Brittany Sykes PR (brittanysykespr.com) based in Los Angeles, where she specializes in everything consumer and lifestyle.
Note Posted: June 18, 2020
2000 Telecommunications
Keith Stancavage
develops web systems for the Pennsylvania Department of Education to manage its needs in the area of special education.
Note Posted: June 18, 2020