A Day in the Life with Jessica Paholsky
Video Marketing Coordinator, Milton Hershey School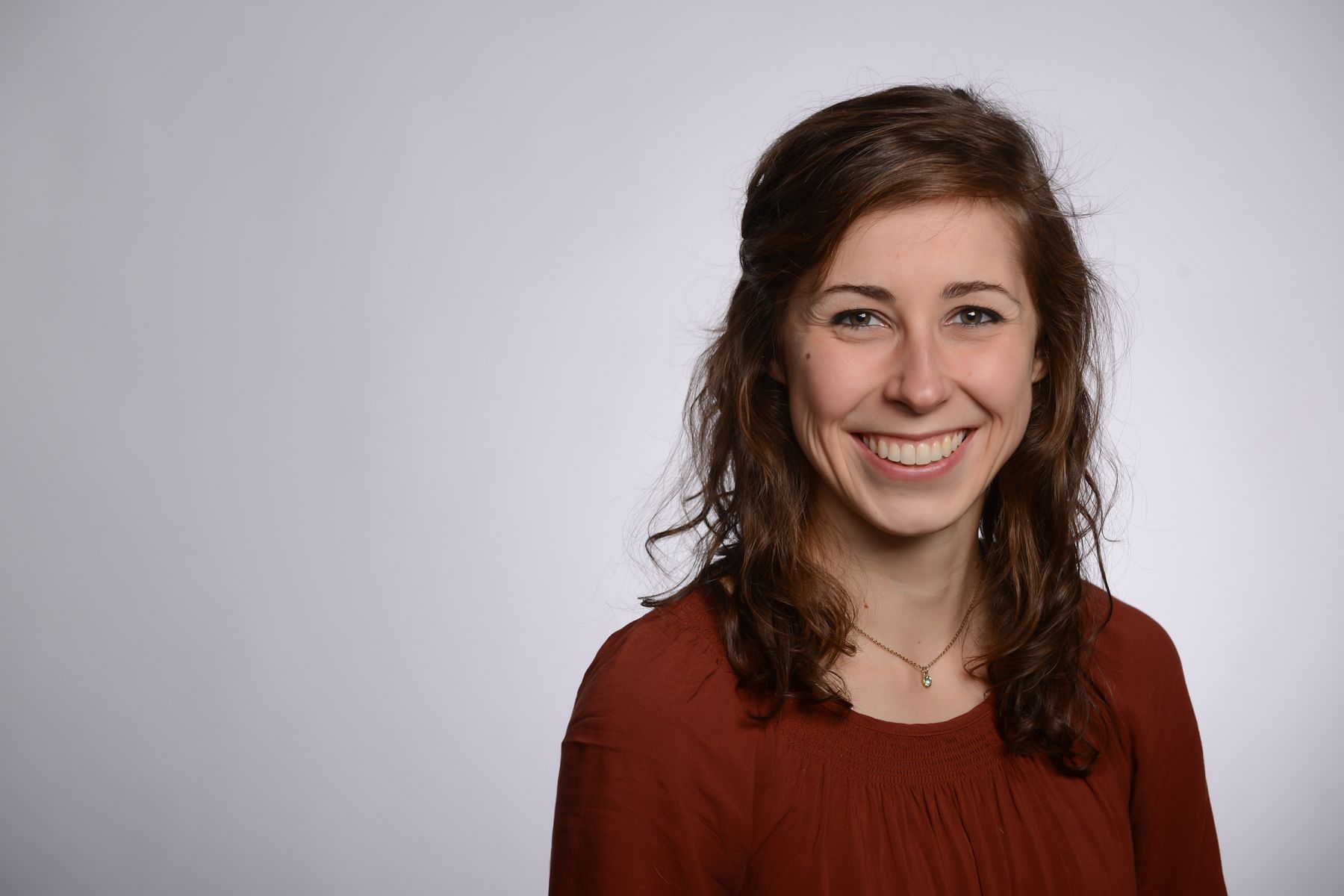 Jessica Paholsky ('14 Journ) enjoys interacting with the variety of people people — and telling their stories — at the Milton Hershey School.
Don't let Jessica Paholsky's quiet demeanor fool you. Despite being voted "Most Shy" in high school, she hit the ground running at Penn State in the fall of 2010 (literally … she was a member of the club cross country team), took advantage of quite a lot of what the University had to offer and has steadily pursued, grown and thrived in a chosen field that's been personally and professionally fulfilling.
Paholsky grew-up in a small town near Gettysburg and was reluctant to attend Penn State at first but eventually followed in her family footsteps. A 2014 graduate with a bachelor's degree in visual communications and photography, she was involved in the Penn State National Press Photographers Association, the Daily Collegian, the College of Arts and Architecture student government, the University Park Undergraduate Association, and the triathlon club. Oh, and there were several internships and study abroad programs along the way.
Visual arts and storytelling were always her thing, with a career goal of becoming somewhat like a National Geographic photographer … and she made that happen quickly with her first role upon graduation, filming high school students as they immersed themselves in cultures across several different continents.
Paholsky moved forward into the publishing industry, creating daily video content for Men's Health and Runner's World, before becoming video production specialist at Bucknell University. The Milton Hershey School (MHS) then came calling and, after visiting the impressive campus, meeting several staff members and witnessing the life-changing impact the generous gift Milton and Catherine Hershey left for thousands of students from families of lower income, Paholsky knew her heart belonged in Chocolate Town.
Paholsky is currently the video marketing coordinator at MHS. In that role, she oversees the production of weekly video content published on the online on TV and on the school's five social media channels. Some days involve conceiving story ideas, collaborating with staff all across campus on video project requests, planning the who and where of filming, and scheduling video shoots.
Other days, there's a lot of on-the-go time as Paholsky films in scholastic settings, student homes and other buildings across the beautiful campus. With ample filming comes hours of editing footage and audio into stories that move viewers to understand more about the school and, for some, to take the next step in applying for admission or employment. She also manages all post-production operations, such as optimizing for different platforms; writing captions, titles, tags, and subtitles; designing thumbnail images; maintaining the school's YouTube presence; and internally distributing weekly video content.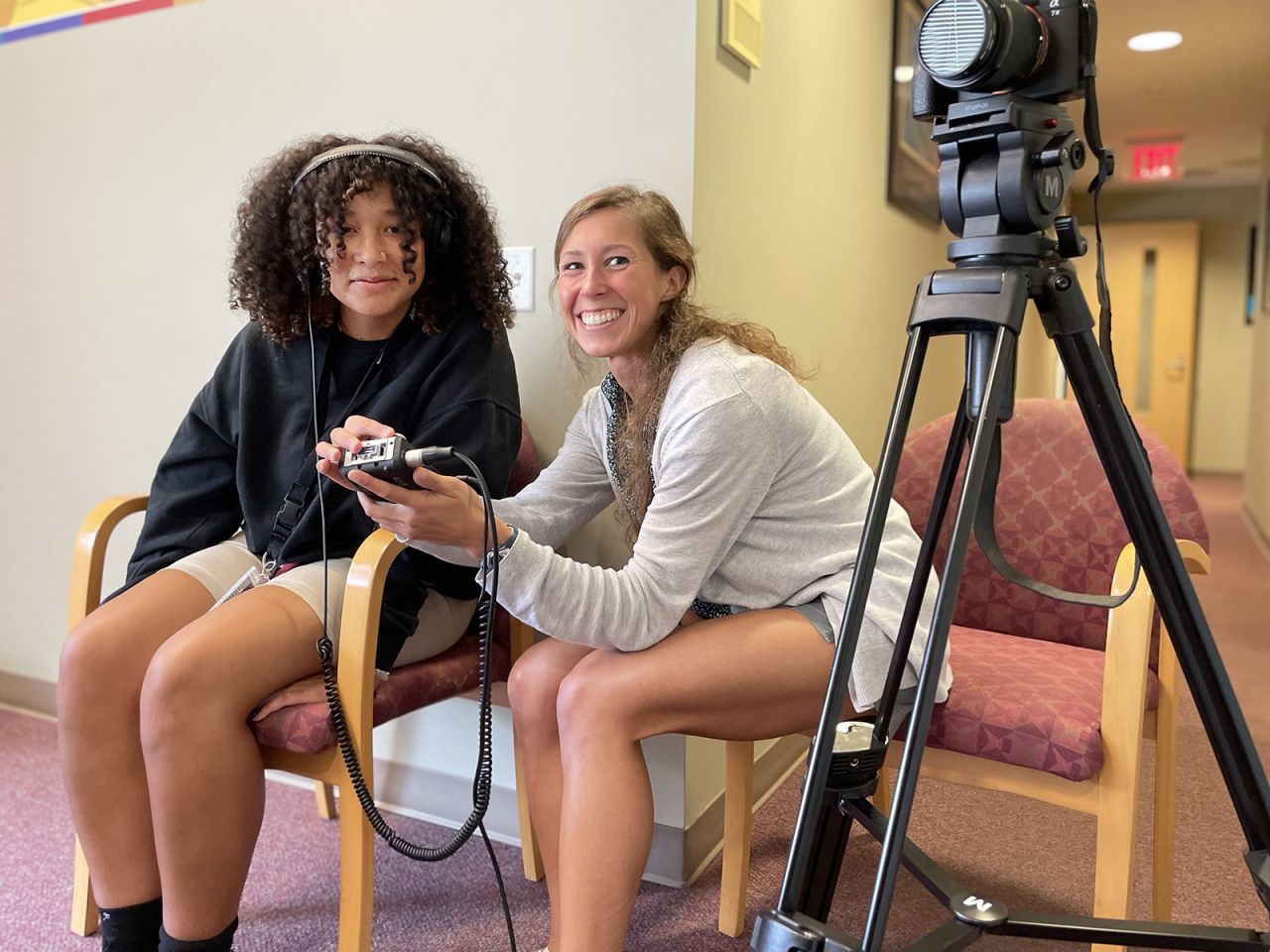 Can you tell me about a typical day-in-the-life for you in your current role?
Since my work is often based around video shoots, I always check my next day's schedule so I can arrive in the morning knowing where I need to be and when. A typical workday is 8:30 a.m. to 5 p.m. Sometimes my role involves filming before or after normal work hours as well as on the weekends.
If I don't have any video shoots in the morning, my first tasks for the workday involve catching up on emails, tracking analytics of prior videos, reviewing and confirming details in the video editorial calendar I manage, confirming and sending calendar invitations for upcoming video shoots, editing in-progress video content and completing the steps necessary to publish video content on YouTube.
When it comes time for video shoots, I head out the door with the necessary gear (camera, lenses, batteries, SD cards, lights and audio equipment) to get to the shoot location 15 minutes early to allow time to set up. Some days I may have over a dozen different interviews as well as some additional filming on my schedule. As soon as I return to my desk after a video shoot, I transfer and organize the video and audio files so they are tidy and never lost when it comes time to begin post-production — a very important to-do I learned from faculty in the Bellisario College of Communications.
What's intriguing and inspiring about your current role?
The most inspiring part of my role at MHS is the number of different people I get to meet on a regular basis. My favorite part of my job is making new connections — talking to students, staff, parents/sponsors and alumni as I capture their stories. Plus, catching up with those I have filmed prior on my way to and from other video shoots.
I hear students and alumni repeatedly say how this school feels like a family. At the end of each day, and even more so each school year, I feel fulfilled and rewarded in my role as I get to see how much of an impact the school has on changing the lives of students and their families across the country by providing a safe living-learning environment coupled with endless opportunities in state-of-the-art facilities.
How did your days at Penn State prepare you for your current role and your career in communications?
My leap into the world of journalism was exciting and successful thanks to the faculty and staff in the College of Communications. Every course I took, every faculty member I learned from and every assignment I completed has in one way or another shaped the communications professional I am today.
Penn State faculty connected me to my first full-time job and a former classmate was my connection to my second job. The technical side of my career is rooted in Carnegie Building and the creative refinements I've made over my career all started when I called Atherton Hall "home" in August, 2010.
I remember the advice one Penn State faculty member shared with the class: adopt what you like most about every teacher and mentor to create and implement as your own style. In other words, take the best of the best and make it your own.
What are the traits necessary for and the lessons you have learned about being an effective communicator and storyteller?
Effective communication in the form of video storytelling is a beautiful blend of being compassionate (having empathy for the subject), curious (asking the right questions), succinct (getting to the point without wasting people's time) and compelling (understanding the value you are providing viewers). To be an effective storyteller, you must be able to empathize with your subject, which means really truly listening to them, and discern why your audience should care.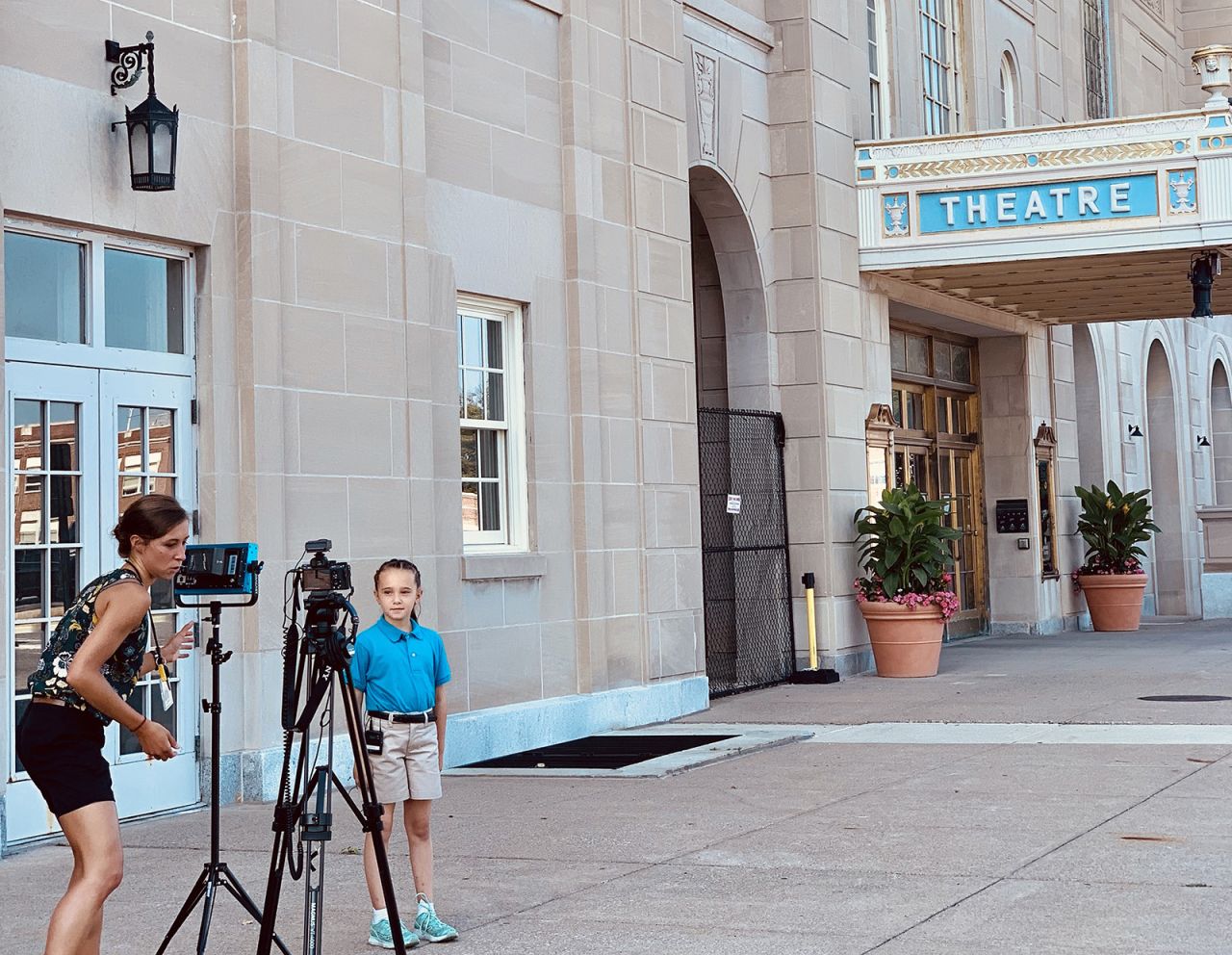 The people I interview on a regular basis are not TV stars. Most times, my filming is the first time they've ever been professionally on-camera so a big part of my role as a storyteller is also making sure they feel at ease. Half of the work in effectively communicating happens in the field; the other half happens in front of the computer.
I believe the magic of storytelling comes together in the editing stage. It's a fun challenge to be able to balance what gets people's attention so they continue watching with what they need to know so the story has clarity and purpose.
What advice would you give to others who may want to follow your footsteps?
The best advice I would give is to be yourself, be genuine and be a go-getter. People relate to people, so if you are telling stories about other people, your ability to tell a story well begins with you. You have to wear many hats as an interviewer and storyteller, and you can't just choose to wear only one. If you are genuine, the videos you produce have the ability to resonate with others and with truth.
Also, don't wait for stories and opportunities to fall into your lap. Each opportunity I was afforded throughout my academic and professional careers came when I actively took the next step, inched beyond my comfort zone and pursued the potential in what I was hearing or seeing.
I often think of how many possible stories there are to be told by any organization. The stories are always there; it's up to storytellers to bring them to light and do so with creativity and honesty.
What do you know now that you wished you knew then?
When I was a student at Penn State, I was laser focused on planning for the future and trying to make sure every piece fell into place exactly as I thought it should. Looking back now, my four years at Penn State and my first six years as a professional videographer all happened just as they were meant to. My worrying about every miniscule detail had an insignificant effect on it all. I believe with the right intention and effort everything will work out in the end.
What's something someone would be surprised to know about you?
In my spare time, I mirror my workplace creativity with hobbies in visual and performing arts. I play piano in my church's worship band and I nurture my growing social marketing brand, Once Upon a Pesto, through content creation and international social media engagement. Interestingly, my Once Upon a Pesto brand was inspired by my first two full-time jobs, combining travel and food publications into something completely my own creation — and I now have almost 12,000 worldwide followers on Instagram.