A Day in the Life with Samantha Freed
Senior Manager of Event Operations, San Diego Padres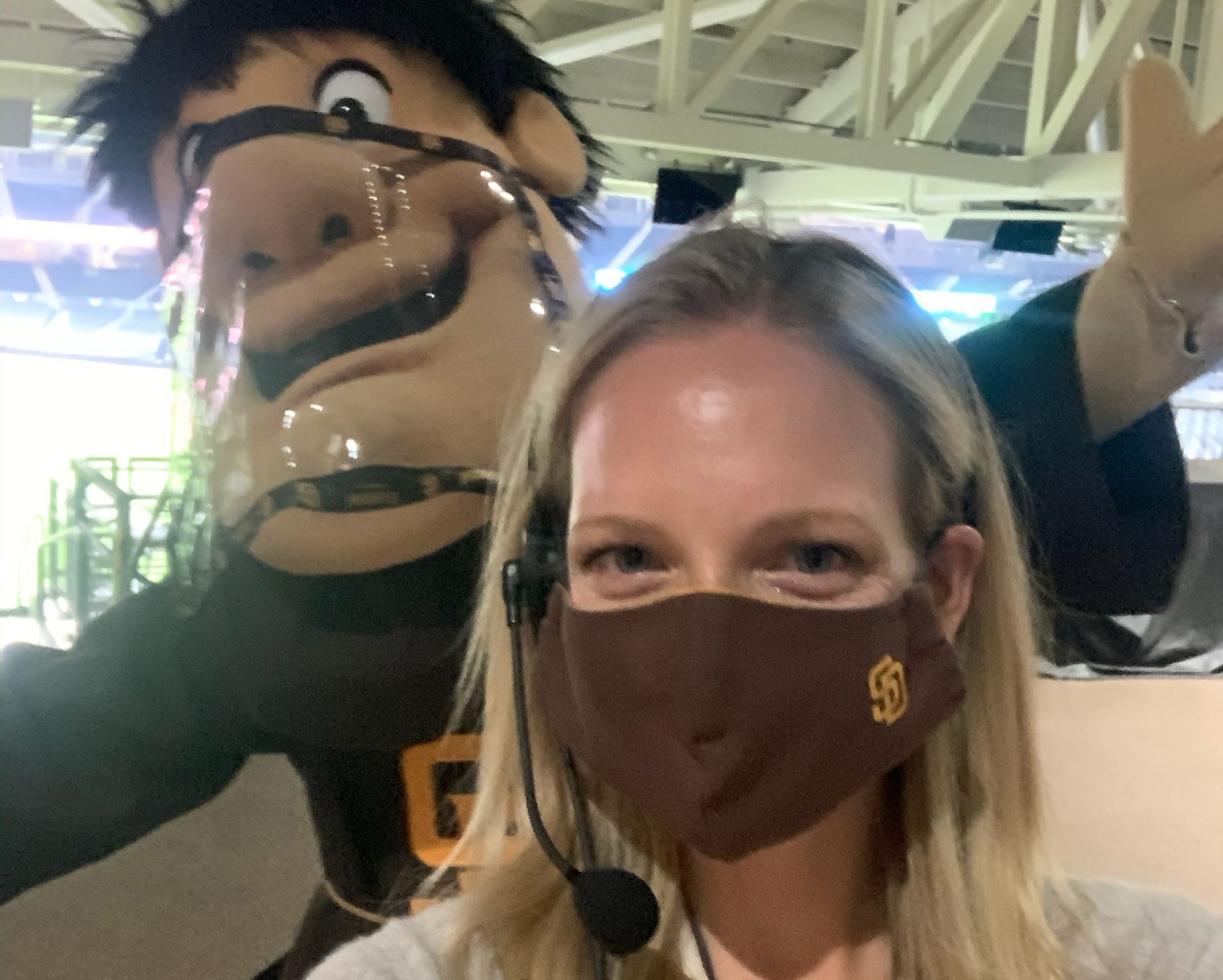 If you need any further proof that a communications degree from Penn State can be applied to virtually any career, simply take a look at the unique professional path of Samantha Freed ('10).
Her love for professional hockey and baseball, combined with her passion for communications and event planning, fueled Freed's drive to work her way up through the National Hockey League, beginning as a sales executive with the Nashville Predators to coordinating logistics and venue operations for the NHL's global events from the home base of New York City.
Now, with a recent career shift over to Major League Baseball, she has an interesting perspective to share on a career transition during a pandemic – especially to an industry that went to a standstill.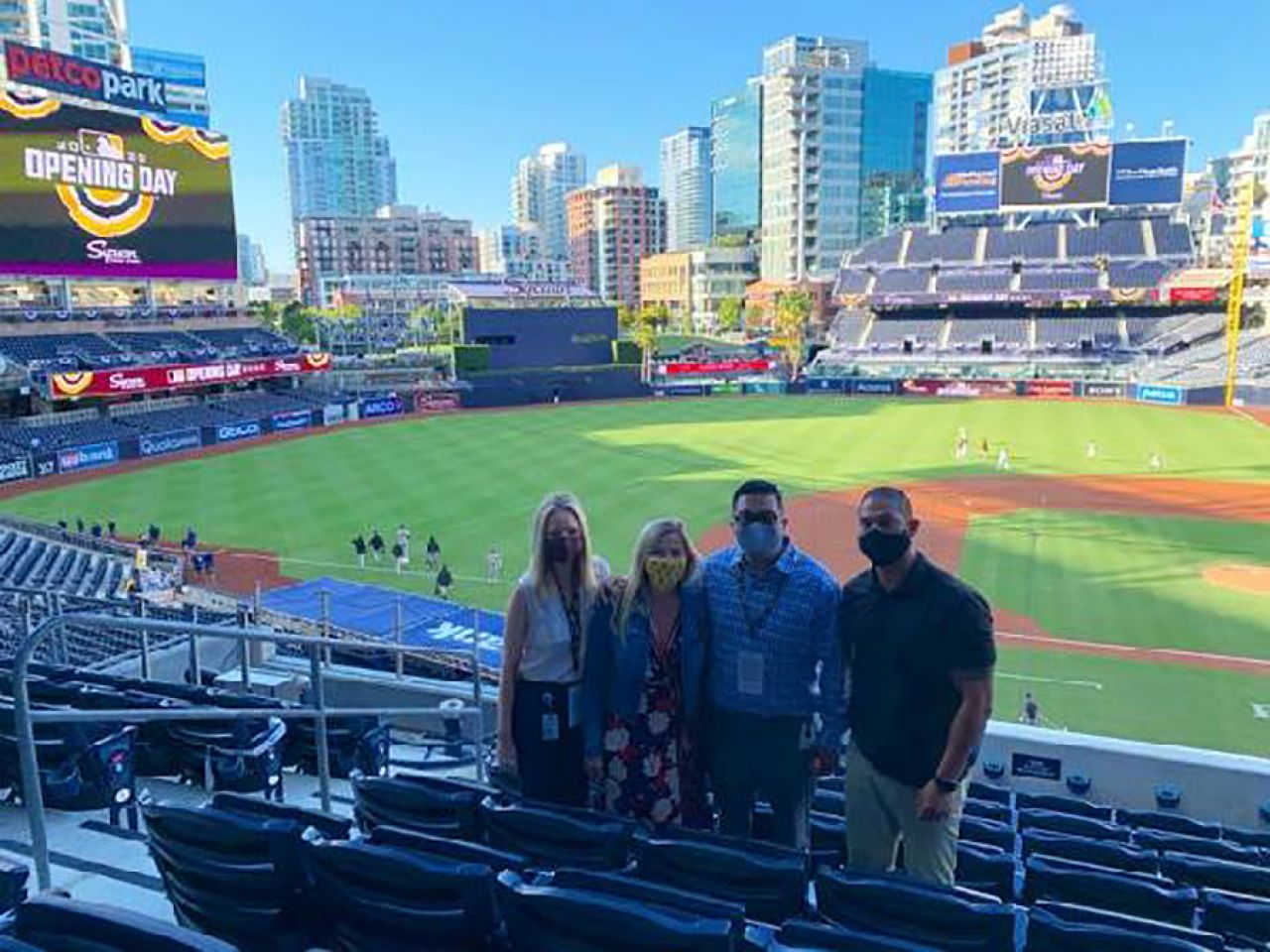 Adjusting to a Major Career Move During a Pandemic
In early 2020, I decided to make a major shift in my career, not only moving across the nation from New York City to San Diego, but also moving away from the National Hockey League to Major League Baseball. I was ready for a new adventure, I just couldn't have anticipated what a ride this would be.
I started my job on Monday, March 23. About three days later the world went on lockdown, including postponing opening day for MLB. I feel so fortunate to have kept my job through all of this, when for so many that wasn't the case. I definitely didn't have the traditional first experience of working a normal professional baseball season, but there were many silver linings along the way.
Adapting and Evolving
My small staff and I had to quickly adapt and evolve to determine what, if any, special events we could still produce — even if they needed to look a little different. Aside from waiting on the baseball season re-open, we were able to use the ballpark parking lots to host drive-in movies and drive-in concerts. We also looked for ways to give back to the community. I
n San Diego there is a large military presence, so we hosted USO drive-through mobile food distributions. We also hosted a few drive-In high school graduations!
I'm really proud of how the entire team moved quickly to change our processes to be safe and adhere to all CDC guidelines. We were even able to welcome the Padres back for their 2020 season, though under very new policies and procedures (i.e. cardboard cutout fans!)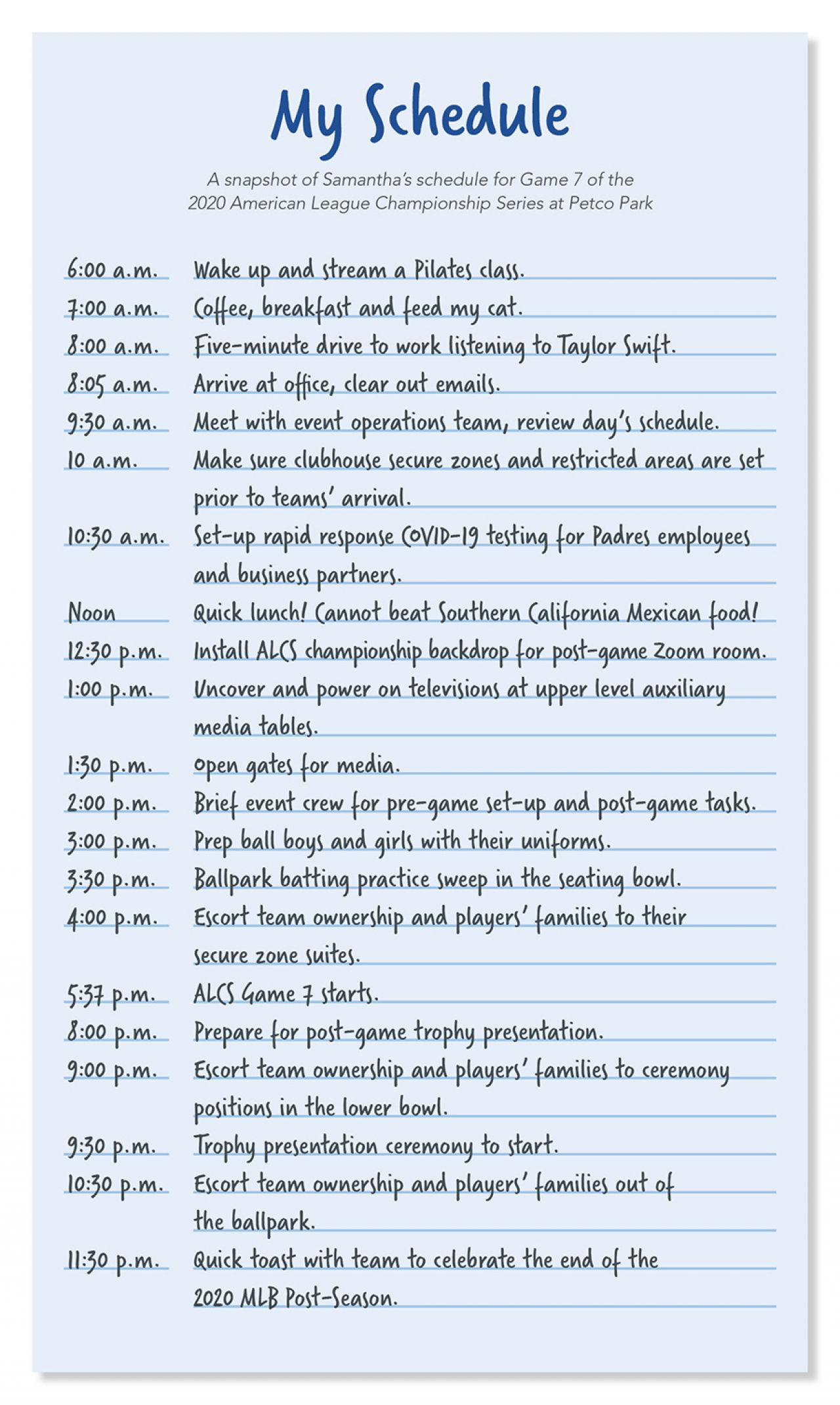 No Two Days Are the Same
What I love most about my job is that every single day is different. Off-season looks very different than in season. Fortunately, with San Diego weather we are able to host a wide variety of events year-round, so baseball is just one snapshot of what I do. I'm in the office six to seven days of the week, so it's a good thing I have a five-minute commute.
And I'll be honest, some days are really long hours – like 18 hours! But I love producing events, especially really big and creative events where I can roll up my sleeves and come up with innovative ways to take things to the next level. So many hours go into planning a single event, and the largest portion of what goes on is behind the scenes.
New Home Sweet Home
The global pandemic has made it difficult to fully explore and enjoy my new home city of San Diego. I love being able to try new restaurants, attend events and meet new people. For now, much of that can't happen to the same degree it could just a year ago, but I'm really looking forward to when I can fully immerse myself in this beautiful city!
I'm also enjoying being back on the West Coast and less than a two-hour drive from my dad. Proximity to family has never been more important.
Q&A with Samantha
What was your first career aspiration, and is it what you ultimately pursued?
Believe it or not, I grew up thinking I wanted to study chemistry so I could make cosmetics! That couldn't be more different than the career I ultimately chose. The first tell-tale sign I might want to explore alternate fields of study was that math is not my strong suit, and that's pretty important for chemistry.
What did you major in at Penn State and how did it bring you into the world of professional sports?
At Penn State, I chose to major in advertising/public relations, but I never saw myself working for a big agency. It was about this time in my life when I had really gotten into sports having attended Anaheim Ducks and Los Angeles Angels of Anaheim games with my parents quite regularly before leaving for college, so meshing a career in communications with sports seemed like the best of both worlds.
What's your best Penn State memory?
My best Penn State memory was being part of THON, and I was a part of it for all four years. The first three years I served on the rules and regulations committee. Then my senior year I danced independently. I'm really proud that I was able to raise enough money to fund that opportunity. It was a huge accomplishment! Best of all, I got to share this memory with my very first friend I met at Penn State, Kelly. Then, when my mother was diagnosed with cancer and passed away in 2017, the Four Diamonds and their mission became all the more personal to me.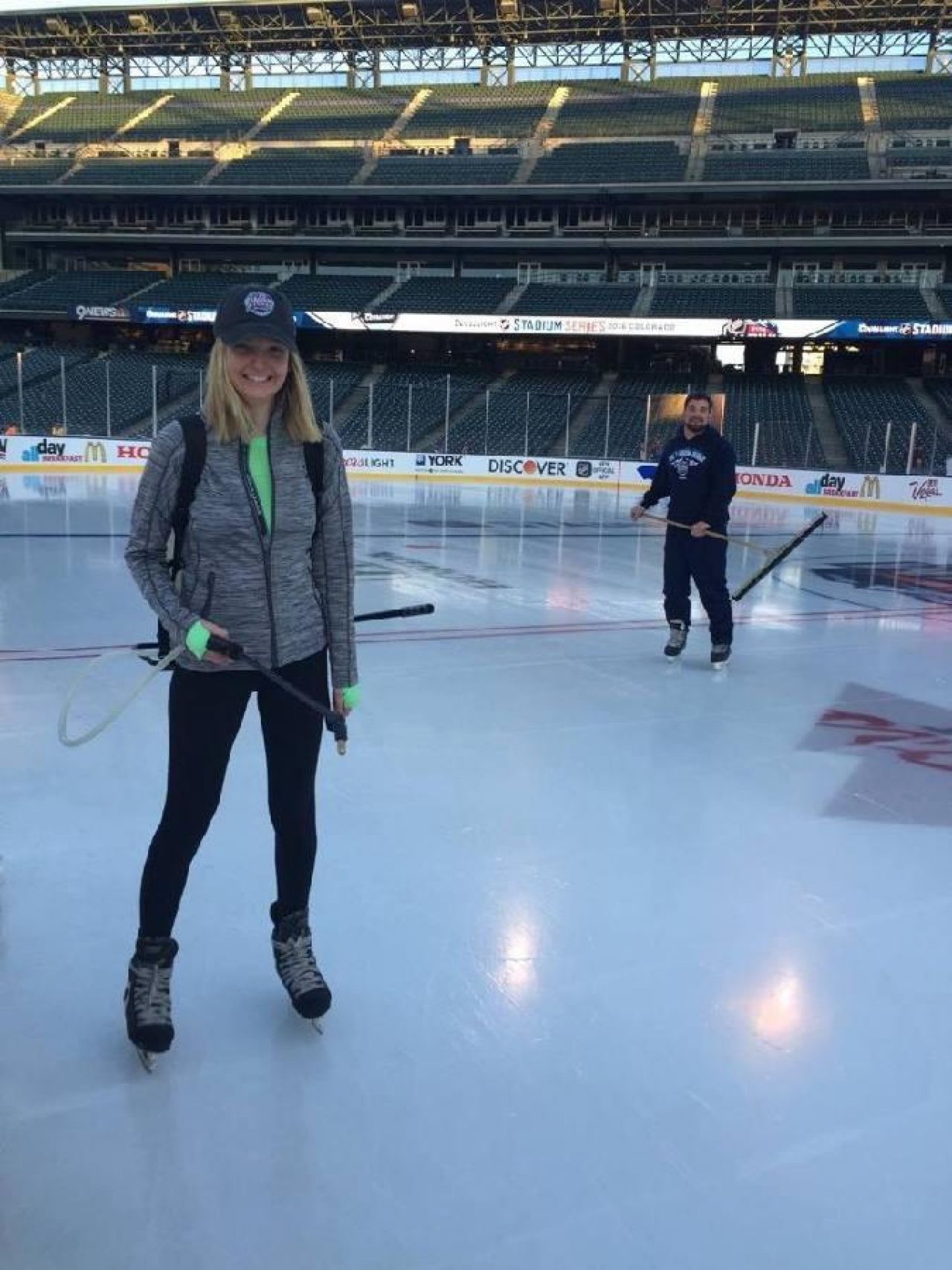 What made you choose Penn State and how has this impacted where you are now?
I am originally from Pomona, California, so choosing a school across the country and in a much cooler region was a big change for me. And that's what I wanted. My older brother chose to go to college in Chicago and I saw how much he grew from the experience of being away from home and learning a new region. I wanted that for myself as well. I did not apply to one school in California! I
just happened to have visited Penn State during Blue and White weekend and that immediately sold me. I wanted to be a part of a big school! I wanted to get out of my comfort zone and meet new people. I also liked Penn State's dance program, and while I ultimately didn't dance while in college it was a big draw for me to come here.
What was the most valuable lesson you learned from a job?
When I was working with the NHL, I was sent to Ottawa, Canada, to work on an outdoor game and, no joke, it was negative 22 degrees! We worked 18 hours a day outdoors parking mobile office trailers and setting up for the event.
It was brutal, particularly for a California girl! That less-than-comfortable experience taught me that I have to prepare, adapt, and stick out even the most challenging situations in life.
Finally, what advice would you give to your college freshman self?
Live your own timeline. You need to do what's right for you, so don't compare yourself to your friends or classmates. There's no right or wrong path for your personal or professional life. After college some of us choose more schooling, to travel, or to take time off, and some of us hop right into a career or relationship.
Don't ever let other people's decisions make you second guess your own.