Alumni
Alumna opens her heart in book about 9/11 and the impact of her father's death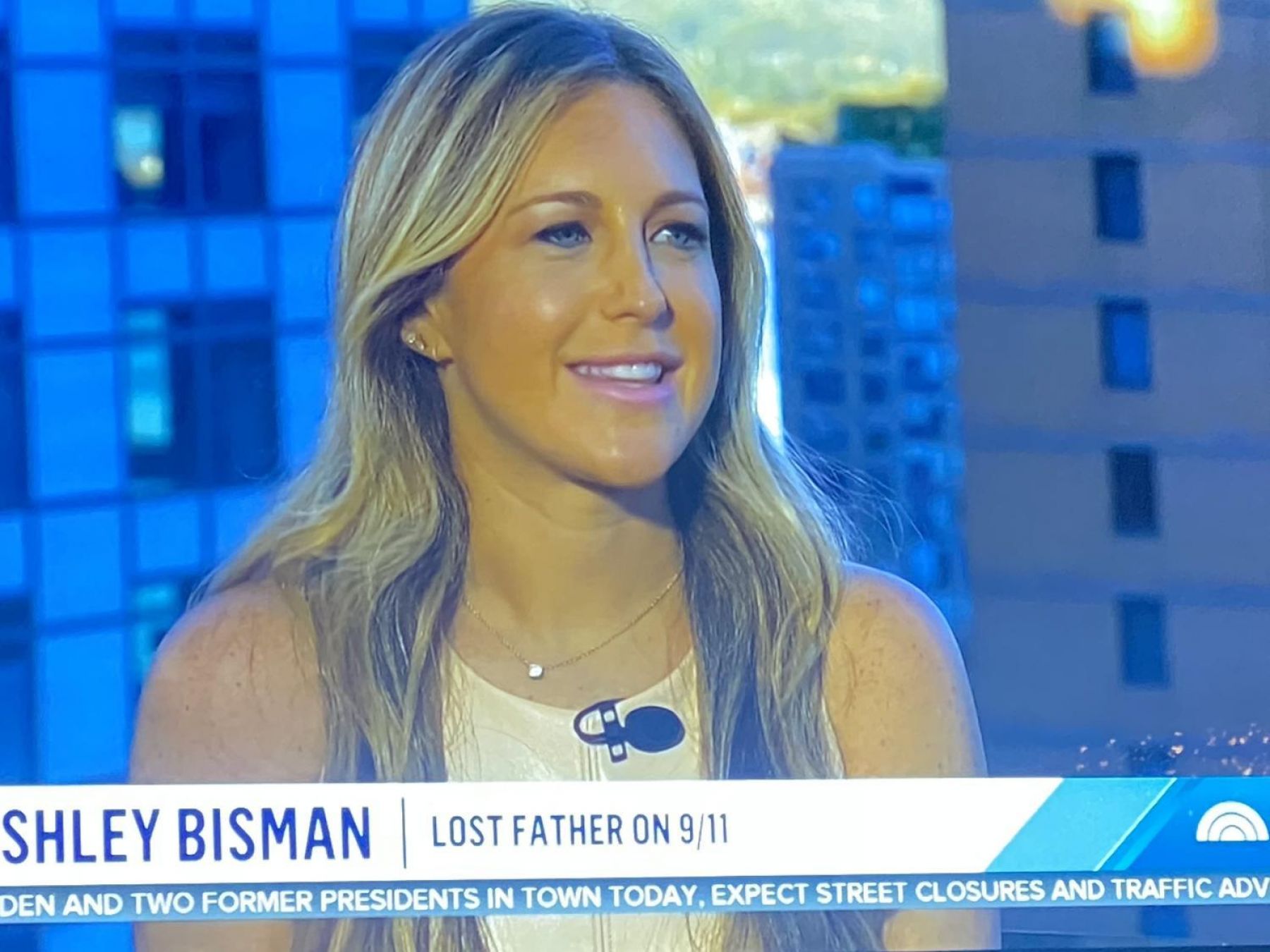 Ashley Bisman spent Sept. 11, 2021, doing something she had never done at Penn State — talking about her father and about her life before she came to the University.
Bisman's father, Jeffrey Goldflam, was the chief financial officer at Cantor Fitzgerald. He died in the Sept. 11, 2001, terrorist attacks that destroyed the World Trade Center towers in New York City, where Cantor Fitzgerald's headquarters were located. Bisman was 16 years old at the time.
A few years later she picked Penn State for her undergraduate education because she thought it was far enough from her home on Long Island that nobody knew her story, and she was not in the mood to share.
"I figured the only way they'd know about my story was if I chose to tell them and I never really cared to discuss 9/11 or my situation at that point," said Bisman, who earned her bachelor's degree in journalism in 2007. "I kept it really close to me."
As she started her career and family, though, things changed. She was working in New York City, not far from the Freedom Tower. She started journaling, writing for herself, chronicling dating and early career experiences, and the process helped with her healing and growth. She was getting more comfortable with herself and, eventually, comfortable enough to share some things with others.
"I was maturing and exploring my feelings about not having a dad," she said.
Her process eventually led to a book — "Chasing Butterflies: The True Story of a Daughter of 9/11," published earlier this year — which follows her journey as a young adult to marriage and motherhood.
On Sept. 11, 2021, she was on "The Today Show" talking about the book. She also made media appearances CBS, Fox Business and "Morning Show Australia." It was part of media attention for the book that included networks and publications from across the United States and around the world that coincided with the 20th anniversary of the terrorist attacks.

"It's really scary putting a book like this out there. You're putting your whole heart and all your memories out there for the world."

Ashley Bisman
"It's really scary putting a book like this out there," Bisman said. "You're putting your whole heart and all your memories out there for the world. But the general feedback I've been getting has been good. I've had complete strangers email me and tell me they lost their father and they're able to relate.
"At the very least just bringing a different perspective to the day of 9/11, talking about life and going through life as a 20-something girl, when there's nothing normal about the experience, has been interesting."
Bisman said her preparation for media interviews was minimal. She just jumped in and told her story, and she thinks her approach has been helpful for her and welcomed by media members.
At the same time, Bisman has often avoided anniversaries of the event or commemorations in general. She believes those dates are important but tries not to overemphasize them. She often struggles more with out-of-the blue, unexpected moments — like seeing a mother and her children at a park interacting with a man who was obviously her father and their grandfather.
"I discuss a lot in the book about the role of anniversaries and dates. Whether it's 9/11 or May 26, my dad's birthday, those days don't make me feel any more sad," said Bisman, who has two children — a daughter, Jade, 4, and a son, Austin, 20 months. "It's the little moments that end up getting you."
Response to the book has been strong but Bisman said her measure of success has nothing to do with media attention or book sales. She said her mother has read the book, "knows every page by heart" and approves the result. Bisman said her older brother, who had completed an internship at Cantor Fitzgerald just weeks before the deadly attacks, has been supportive as well, although he does not want to relive 9/11 in any way.
Still, there's one other audience member she had in mind while writing the book and especially during the busy days before and during the 20th anniversary of the attacks.
"Some people feel they have to be in that mourning mode on 9/11," she said. "I spent the whole day talking about my book and talking about my dad. I want to celebrate that. I want to make my dad proud of me."