Alumni
Alumnus makes gift to the University as part of a thank-you effort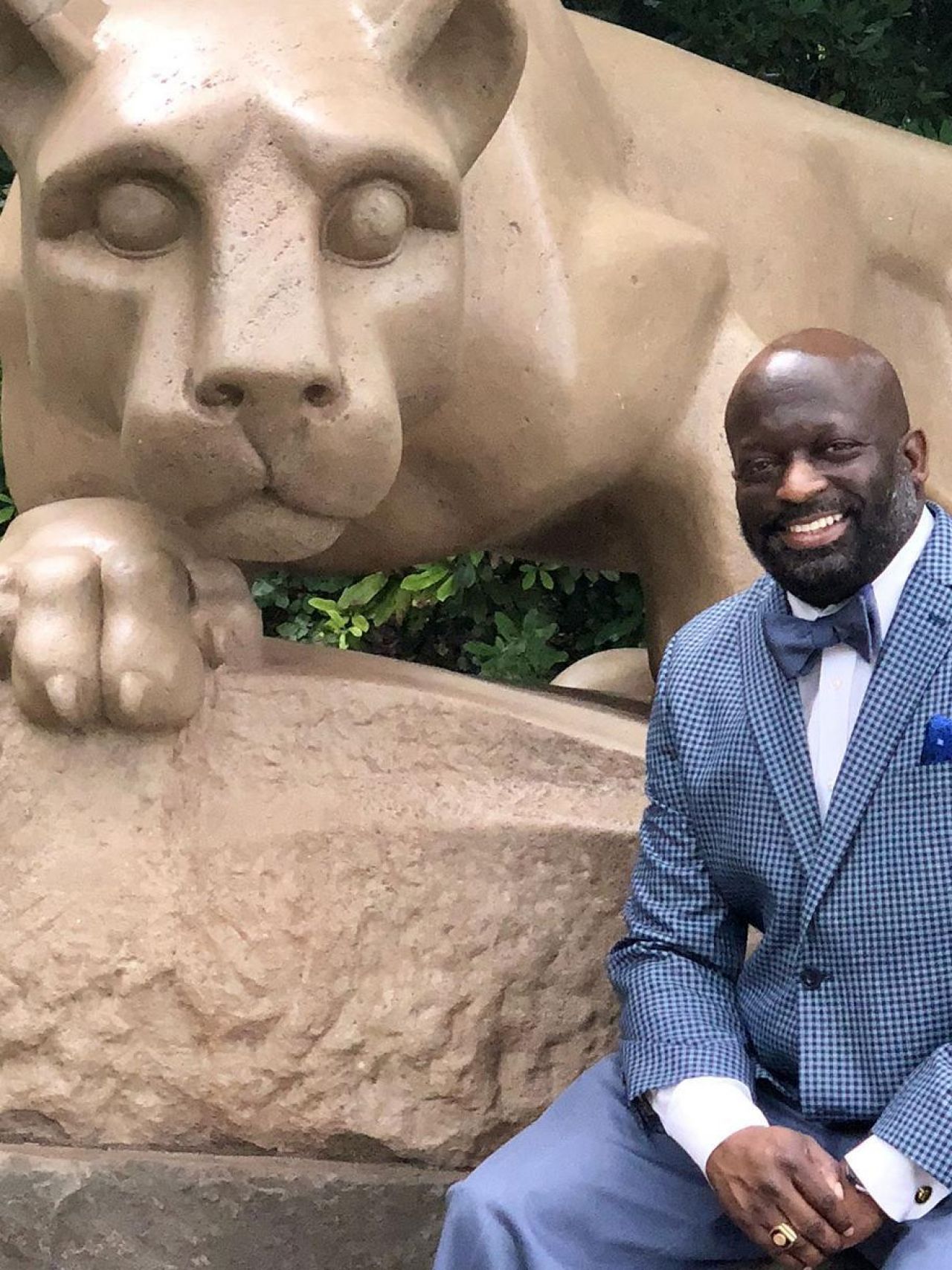 His career has enabled him to work with national and international newsmakers and powerbrokers, but Jeff Ballou often finds power in two simple words, and he's proud to shout out a "We Are …" when the moment calls for it.
Ballou, a Penn State alumnus and longtime supporter of the University, works as a news editor for Al Jazeera Media Network based in Washington, D.C. He's a past president of the National Press Club — the first African American man to hold that position, and the first person from a non-U.S. and non-Western-based television network to serve in that role. Ballou earned his journalism degree from the University in 1990 and started his career as a student with journalism and media-related internships.
A recent financial commitment of $26,000 provides a tangible testament to Ballou's areas of interest at Penn State. Specifically, the gift includes:
a donation to the Irvin 'Chappie' Hill '56 Scholarship, named after his late maternal cousin and administered by the Penn State Alumni Association's Greater Pittsburgh Chapter;
a contribution to the Donald P. Bellisario College of Communications Scholarship and Student Support Endowment;
a commitment to the endowed Lawrence Young Scholarship, which awards support to students with high academic achievement, significant unmet financial need, and leadership in a Greek organization within the National Pan-Hellenic Council;
a contribution to the Greater Pittsburgh Chapter's Fast Start endowment, which supports a program that matches first-year students with two mentors, one a faculty or staff member and the other an alumnus, to help the students get off to a "fast start" at Penn State;
a paver in the Hintz Alumni Center's plaza; and
donations to the Nittany Lion Club and WPSU-FM.
"This gift to Penn State represents both a modest thank you to some of the impactful family, academic and volunteer experiences which shaped me as a student and later as an alumnus," Ballou said. "Like my late maternal cousin Chappie Hill, 1956, who helped lead the fundraising charge for the lettermen's lounge, I want to pick up the torch and begin leaving some tangible gifts of my own. Hopefully, the gifts will help future generations of Penn Staters who look like me and come from humble beginnings, get a helping hand to attend, make an impact, graduate, then improve both the journalism profession and the world at large."
Ballou previously earned the Ronald & Judith Davenport Alumni Achievement Award, which recognizes alumni who have made notable progress in their careers including long-term leadership. He previously served as a member of the Alumni Association's Alumni Council.
Ballou, a Pittsburgh native, has been a journalist for more than 30 years. He started his journalism career at KDKA, where he worked as an intern for several summers while attending Penn State. After graduation, he worked for WTTG-TV/FOX 5 in the nation's capital. During his career he has covered the White House, Congress, and the State Department.
As a Penn State student, Ballou worked for WPSU-FM, was a member and leader of Undergraduate Student Government, participated in the Penn State Dance Marathon, and served on several search committees for faculty, staff and administrators.
He complemented his Penn State degree with a master's degree from American University focused on journalism and public affairs.
"Jeff has always been an enthusiastic and passionate supporter of our programs and students," said Dean Marie Hardin of the Bellisario College. "He's been involved, and it's always clear he cares. The varied nature of this gift and the many areas it impacts provides a perfect tangible representation of Jeff's passion for Penn State."
Ballou's gift will advance "A Greater Penn State for 21st Century Excellence," a focused campaign that seeks to elevate Penn State's position as a leading public university in a world defined by rapid change and global connections. With the support of alumni and friends, "A Greater Penn State" seeks to fulfill the three key imperatives of a 21st-century public university: keeping the doors to higher education open to hardworking students regardless of financial well-being; creating transformative experiences that go beyond the classroom; and impacting the world by serving communities and fueling discovery, innovation and entrepreneurship. To learn more about "A Greater Penn State for 21st Century Excellence," visit greaterpennstate.psu.edu.