Alumni
Changes and Challenges for TV Alumni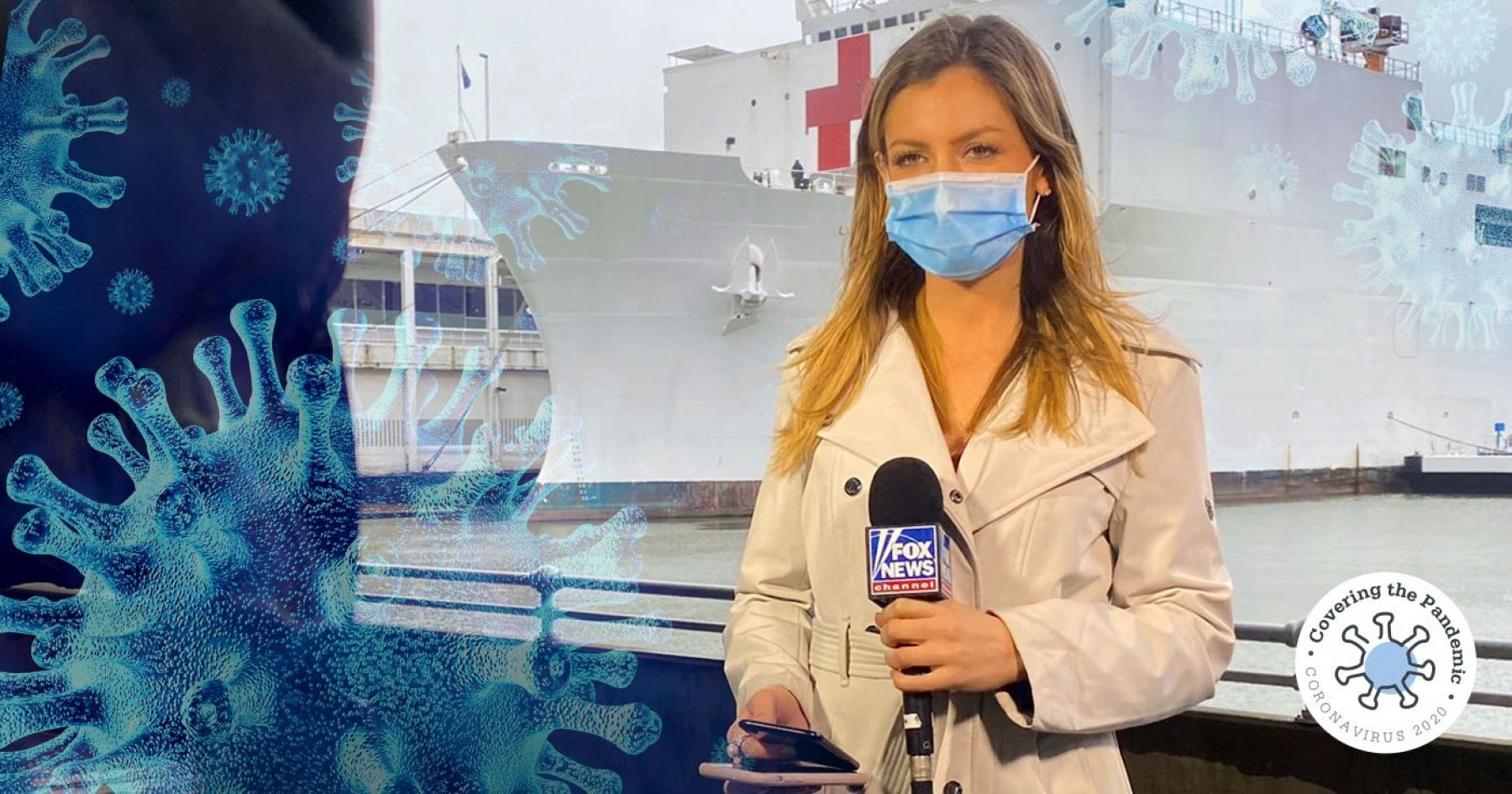 While the coronavirus pandemic has impacted every facet of daily life and every sector of the economy, it's impact on media organizations has been especially interesting.
More people are seeking out reliable and trustworthy information and many are skewing local to find that information. So, ratings and viewership have generally been higher for network affiliates across the country.
At the same time, business shutdowns have limited advertising sales in certain sectors.
Nationally, ESPN lost almost all of its live non-studio programming, across all of its platforms for almost a quarter of the year. Conversely, the WWE was deemed an essential business in the state of Florida and that wrestling entertainment programming kept moving along, albeit in a much more limited manner.
Bellisario College alumni working in all those different sectors have been facing challenges and adapting as necessary. For some, well established in their careers, there has been more responsibility and balancing of work and home. For others, the changes have meant positive career opportunities while others have had amazing opportunities deferred.
Still, others are early in their careers facing day-to-day life they never imagined – even in the unpredictable world of local television news.
Here's what it's been like for several alumni in their own words.
Marielena Balouris ('15 Journ)
WAVY-TV / Anchor and Reporter
As an established talent in the Norfolk, Virginia, market and nationally, Balouris was one of a small handful of reporters from Nexstar Media Group's NBC affiliates across the country set to travel to Tokyo for the Summer Olympics. Her summer plans changed greatly with the postponement of the Olympic Games, but her career remains on track.
"When the pandemic really started to change things, our management at WAVY-TV decided that we'd move to single anchor shows to minimize contact between people. Almost every reporter/photographer crew was assigned live gear and told not to come into the building. Every field crew has masks, gloves, and an extender pole for a microphone. They can also travel separately to stories.
"I've been in the building almost every day, anchoring part of our morning show and turning in a few stories each week. Our morning show is four and a half hours long, which is not something one person can do alone. We've worked out a system to share the load, while only having one anchor on the desk at a time. My 'normal' schedule is a little bit different – I report during the day and then anchor an hour-long show at night. Changing my schedule and anchoring longer blocks has been a good challenge and I appreciate that my bosses know they can count on me in a pinch.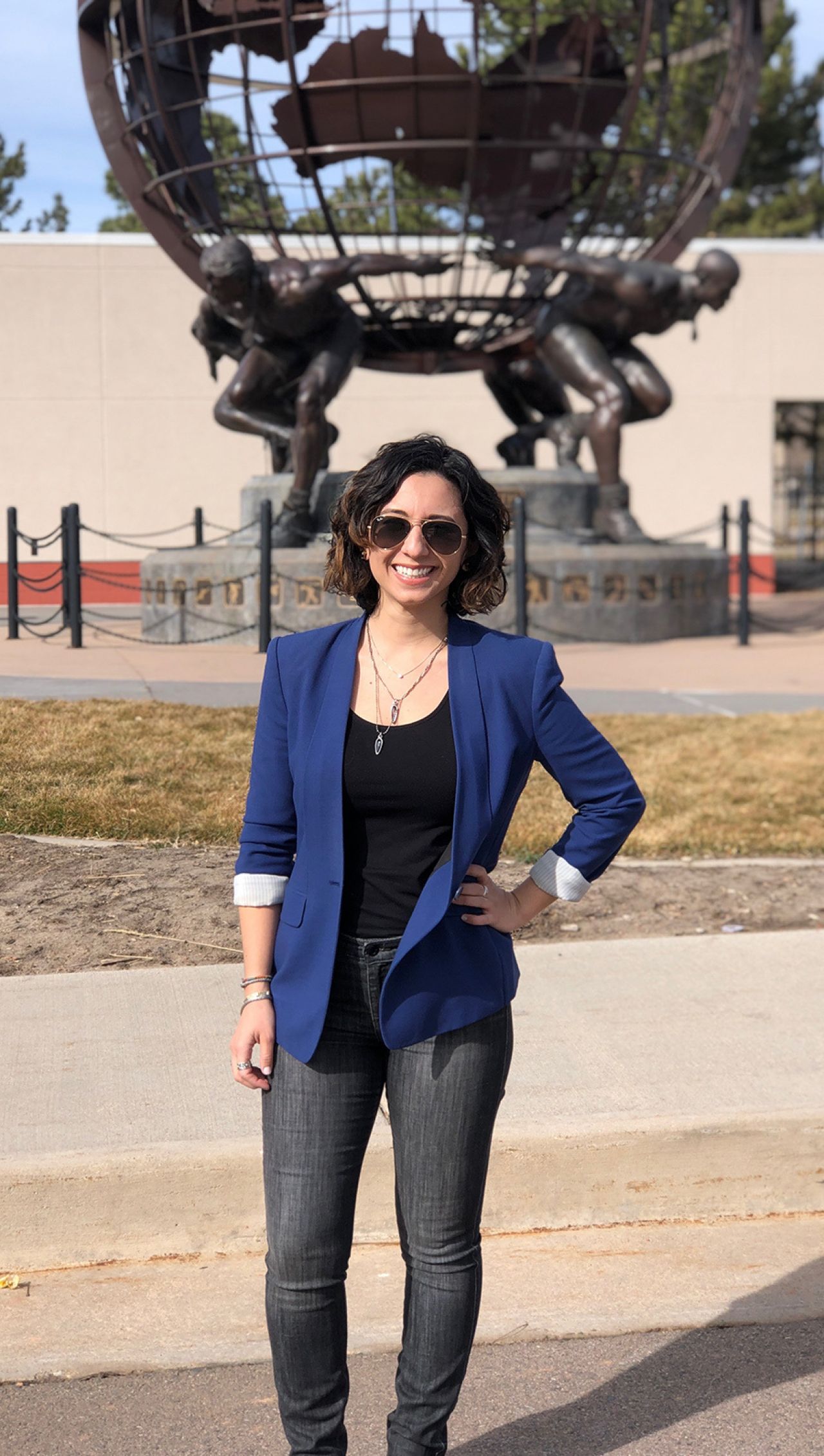 "The newsroom is a ghost town. There's typically constant communication and a sharing of ideas, but now it's much quieter. There's also usually an energy before a show starts, but now you're more isolated so there are fewer people to feed off of.
"I'm grateful that my job allows me to both anchor and report. I do prefer anchoring as it gives you that driver's seat feel. You feel like you're establishing a connection with the viewers. While the pandemic isn't always easy to cover, it's provided a lot of good experience.
"Our ratings have been good. It sounds weird, but we compare everything to 'hurricane numbers' because people watch when there's a hurricane. Since the start of the pandemic, we've been doing close to 'hurricane numbers.' We're typically No. 1 in the market, so it's good to know people are watching our work."
"I am one of seven journalists from Nexstar Media Group who was planning on covering the Summer Olympics in Tokyo. We were in Colorado Springs for an Olympic training meeting when the NBA season was postponed. Initially, one of our contacts at NBC was optimistic that the Olympics would happen as scheduled, but we knew there was a very real possibility that they would be cancelled or postponed. When I got back to Virginia, things were initially normal for a few days, but then really started to change. I was holding out hope, but when the postponement of the Olympics was announced, I wasn't shocked. Obviously, it was still a huge disappointment.
"Back in January, our Olympic team launched a weekly series about athletes as we started to ramp up coverage plans. We've decided to continue our 'Journey to Tokyo' series until next July. I'm hopeful that the Tokyo Olympics will happen in July 2021. Even with the craziness of the pandemic, there are exciting things on the horizon and I really do love my job. I'm not sure what the future holds for my career, but right now, I'm in a great place.
Jordan Cioppa ('19 Journ)
WJAC-TV / Social Media Reporter
A Pittsburgh native, Cioppa joined the NBC affiliate in Johnstown, Pennsylvania, in June 2019, shortly after her graduation. The virus-related changes impacted her work less than a year into the job.
"I feel fortunate that I'm able to kind of maintain my normal life, but work has been a lot different. I've been working half my shifts from home because I do a lot of website and social media posting. So, once I'm done anchoring in the morning, I can do that stuff from home.
"It feels really empty at the station — and kind of peaceful, actually. We've made a lot of changes. We wipe down everything we touch, and we all wear masks. We wear masks in the station, but we don't have to wear them when we're on air. The reporters wear masks all the time when they're out in the field. We haven't had an anchor-anchor duo for at least a month.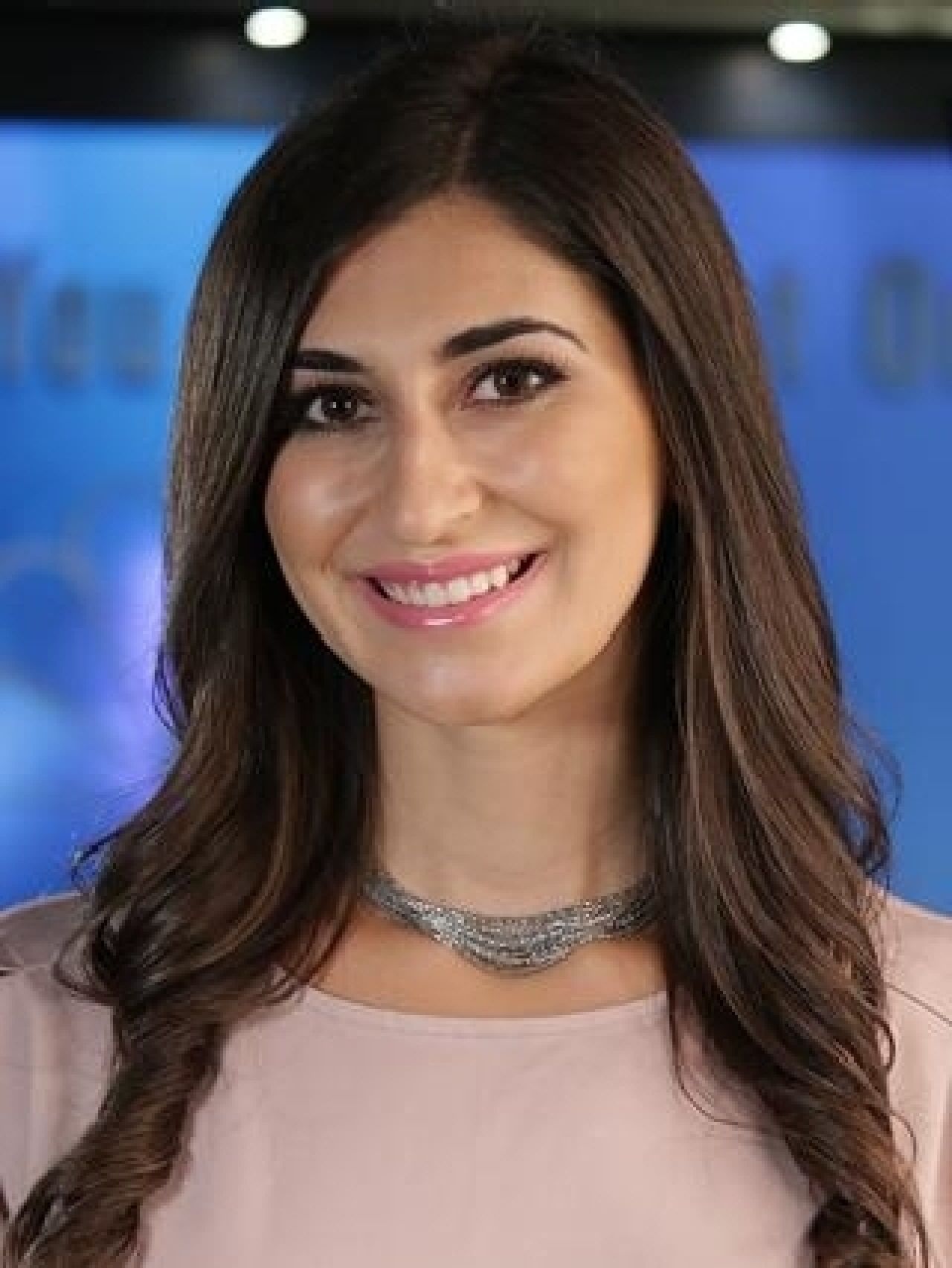 "We get a decent amount of calls. Being in the newsroom after the show, I always take the calls. I have noticed people sound a little more frantic. They want more answers. A big question we've been getting is, 'Why isn't the unemployment office picking up the phone?' Sometimes we don't have the answers. We are reporting as much information as we can.
"I can definitely sense this pandemic hit more. There is worry and confusion about the health aspects. It's the people staying at home and people can't work, and there's just so many different factors that play into this pandemic.
"I think in journalism and communications, you have to be flexible. You have to be prepared to do so many jobs, because doing a lot of tasks is the job. You have to write, talk on air and edit. So, I think that flexibility could be the only thing that can help prepare you for something like this. I don't think anyone would have expected this to happen.
"The response to the pandemic in our area has been inspiring. This is kind of a once-in-a-lifetime experience and I was just amazed seeing that first week when the schools were closed and everything — just how many people in different communities came together and started food drives without skipping a beat. I didn't realize that people would think so quickly.
"One positive part of the pandemic is just seeing how people are coming together to make sure nobody gets left behind. We tell a lot of those stories, so it is nice to see that part of it."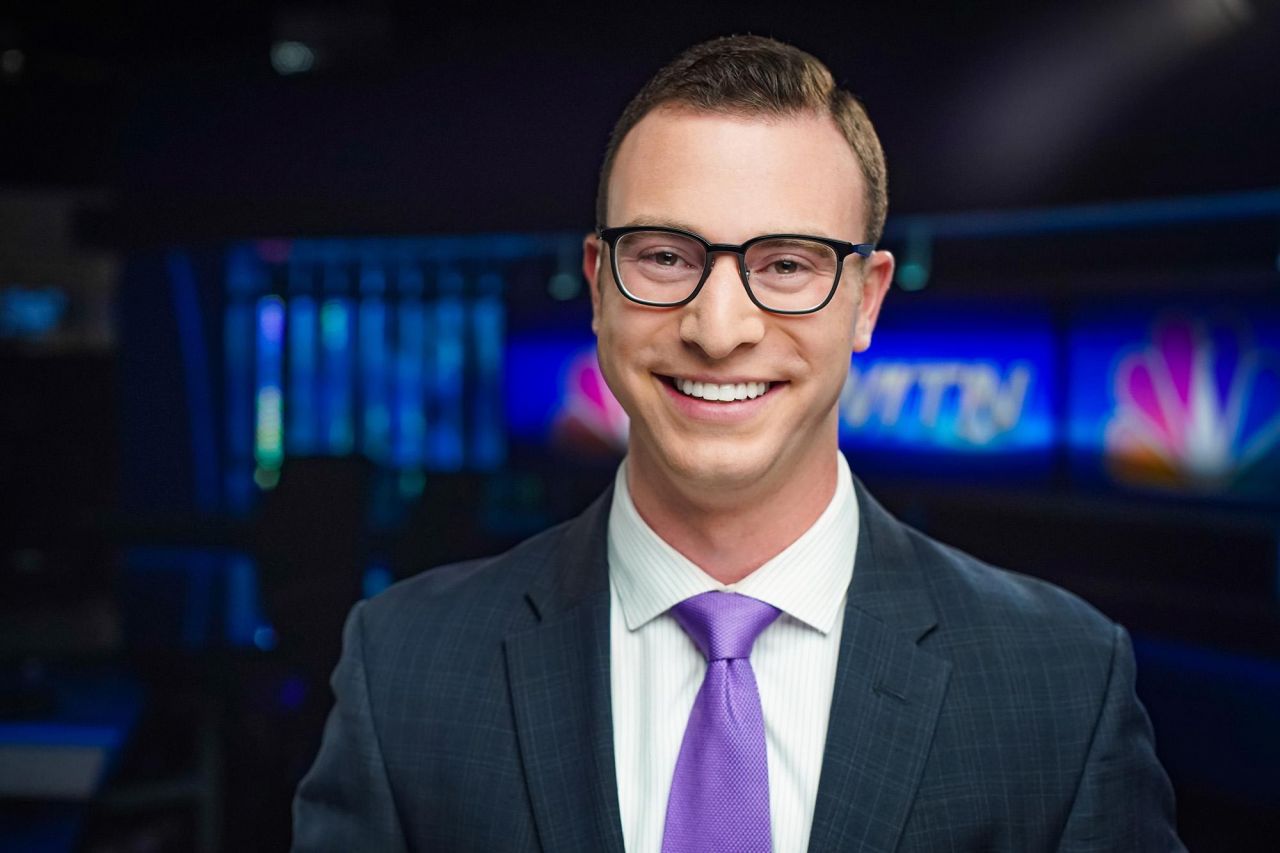 Tyler Feldman ('16 Journ)
WITN-TV / News, Sports Anchor and Reporter
After being near a co-worker who was tested for coronavirus, Feldman endured a 10-day quarantine until that person's tests came back. The results were negative. Feldman, typically a sports anchor and reporter, returned to work with more duties — as the midday news anchor.
"There was some light work from home, sending in some sports VO scripts, but it was nothing crazy. Then, when we could come back to the station, more and more sports started getting canceled. The biggest blow for us was the high school winter championships and entire spring season getting canned. That meant I couldn't do my weekly player of the week feature on our standout high school athletes. So at that point they were trying to figure out what to do with me and asked if I wanted to anchor the noon news show.

"News anchoring is diversifying my skillset, and it certainly beats not working at all. The whole situation has allowed me to gain valuable experience. I've gone for three minutes of sports to a 30-minute newscast, Monday to Friday. Plus, I'm still reporting on any local sports stories and even anchoring our sportscasts a couple of days a week. I've also had the opportunity to fill in anchoring our 4 p.m. and 5 p.m. newscasts.
"My two years of experience in Greenville has really helped ease my transition from sports anchor to news anchor. Our market covers a lot of ground. Eastern North Carolina is really spread out. We go from almost Virginia Beach to the Outer Banks to southeastern North Carolina to Raleigh. My experience gained from covering sports in this market has helped me immensely in knowing and correctly pronouncing town names.
"Maybe the biggest irony in all of this is that as the weekend sports anchor I had gotten used to my 'weekend' being during the week, typically Wednesdays and Thursdays. By transitioning to midday news for the time being, I have actual weekends back. Although with this pandemic, having normal weekends off really hasn't changed much!
"This whole experience is helping me grow both personally and professionally. I'm getting more reps as a news anchor, which will help make me a more valuable journalist in bigger markets. Plus, every single day I get to improve on my news writing. I'm just making the most of the situation, and I'm fortunate to have a news director who has been very supportive."

Carlos Flores ('19 Journ)
WPDE-TV / Multimedia Journalist
Just days into his first job — he started with the ABC affiliate in South Carolina on March 2 after graduating in December — the virus-related changes were just part of the overall adaptation process for Flores.
"Usually when you get to a new town you want to explore, and especially in this job you want to get to know people and places. I had about a week of possible exploring and after that the whole city just shut down. It's been interesting, something different from home (outside Washington, D.C). Coming from a major city, things are a little slower paced and the people are a nicer. Plus, it's a great location, basically two hours or so to Charleston, Charlotte and Columbia, and only eight hours to my family.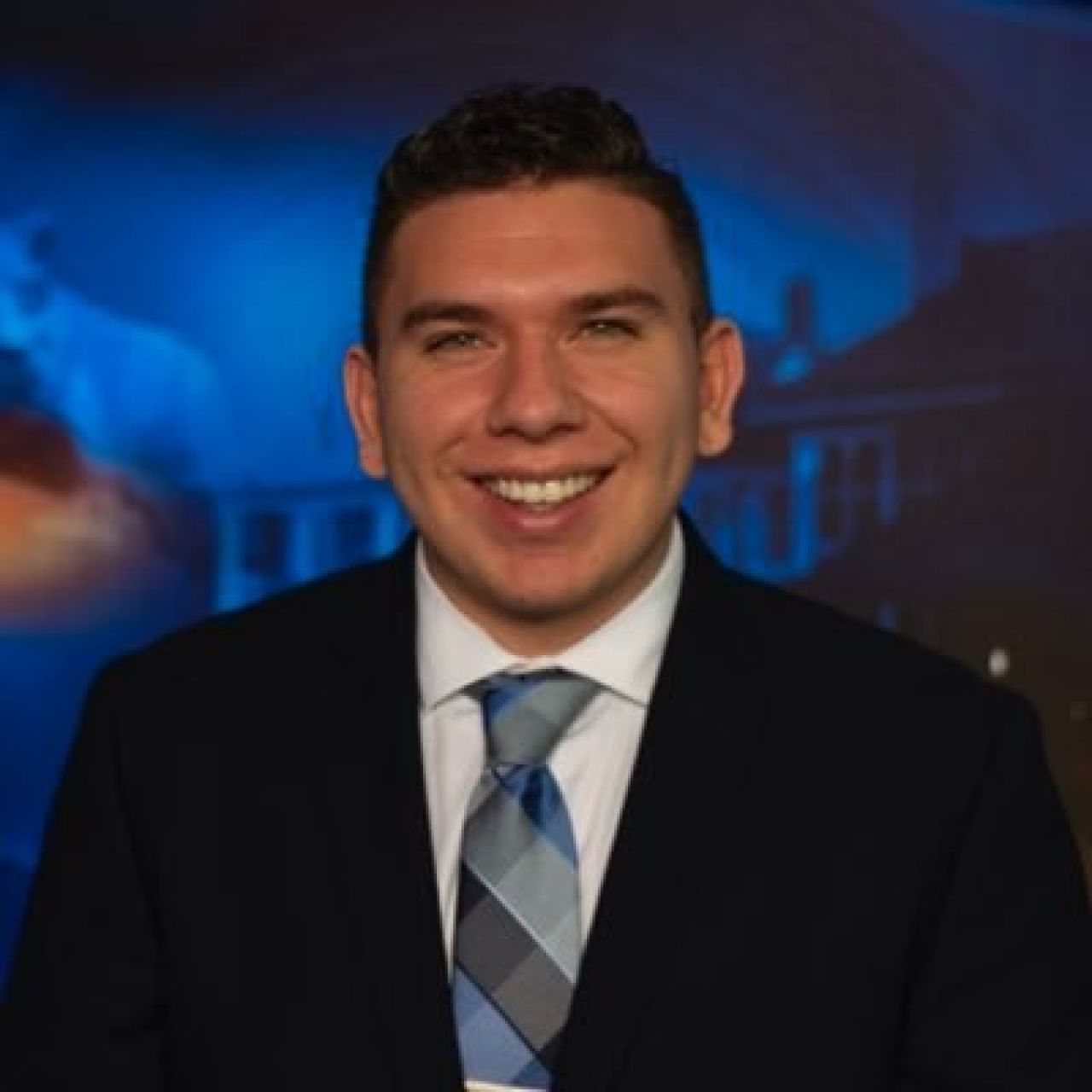 "Meeting people has been hard, though, and being away from the main station in the Florence bureau with everything shut down has been a challenge. I had three days of training in Myrtle Beach but have not seen most of them since. They just know me as the new kid.
"I personally like living alone. I'd hate to be a nuisance to a roommate and with journalism hours you never know what's going to happen. I'm just now meeting other young reporters. Of course, many of them are the competition so that's been interesting. I guess I never realized how cutthroat the business can be. I was talking with one woman for a story and she told me a good bit of information, so I ran over to get my camera and record her and I came back and she was on air with another channel.
"My bureau chief, who's been here for 25 years, has been wonderful. She has so much experience and has offered suggestions on stories. I don't want to rely on someone else but she obviously knows the market and has been really helpful.
"Overall, I think my experience at 'Centre County Report' and Penn State prepared me well. What I've learned in this job, though, is how much stations use live shots. I didn't have as much experience with that, but the transition has been OK. If I had to give myself a grade, I think it would be a B-plus."

Amanda Gifford Lockwood ('04 Journ)
ESPN / Coordinating Producer
While coordinating producer sounds busy enough on its own, Gifford Lockwood's position includes three distinct and important roles: content planning and strategy for "SportsCenter" and studio shows; oversight of the group that books guests for all ESPN shows/platforms; and oversight of the ESPN Radio Network. So, she's been doing all that plus teaching her two school-aged children (third grade and kindergarten). Because she was a double major at Penn State (journalism and education, and she was the student marshal for both colleges) she's been well prepared for the challenge.
"All three of my roles at ESPN were pretty much in overdrive at the same time. First was the radio network, how to mobilize and host from their homes. Then there was content strategy. OK, we don't have games. Now what? We have a really, really creative company obviously, and we were getting bombarded with ideas. So we came up with spreadsheets to handle the intake. Over the course of a week and a half we had 600 ideas. Then it was up to me to decide which were feasible with our resources and what we could do.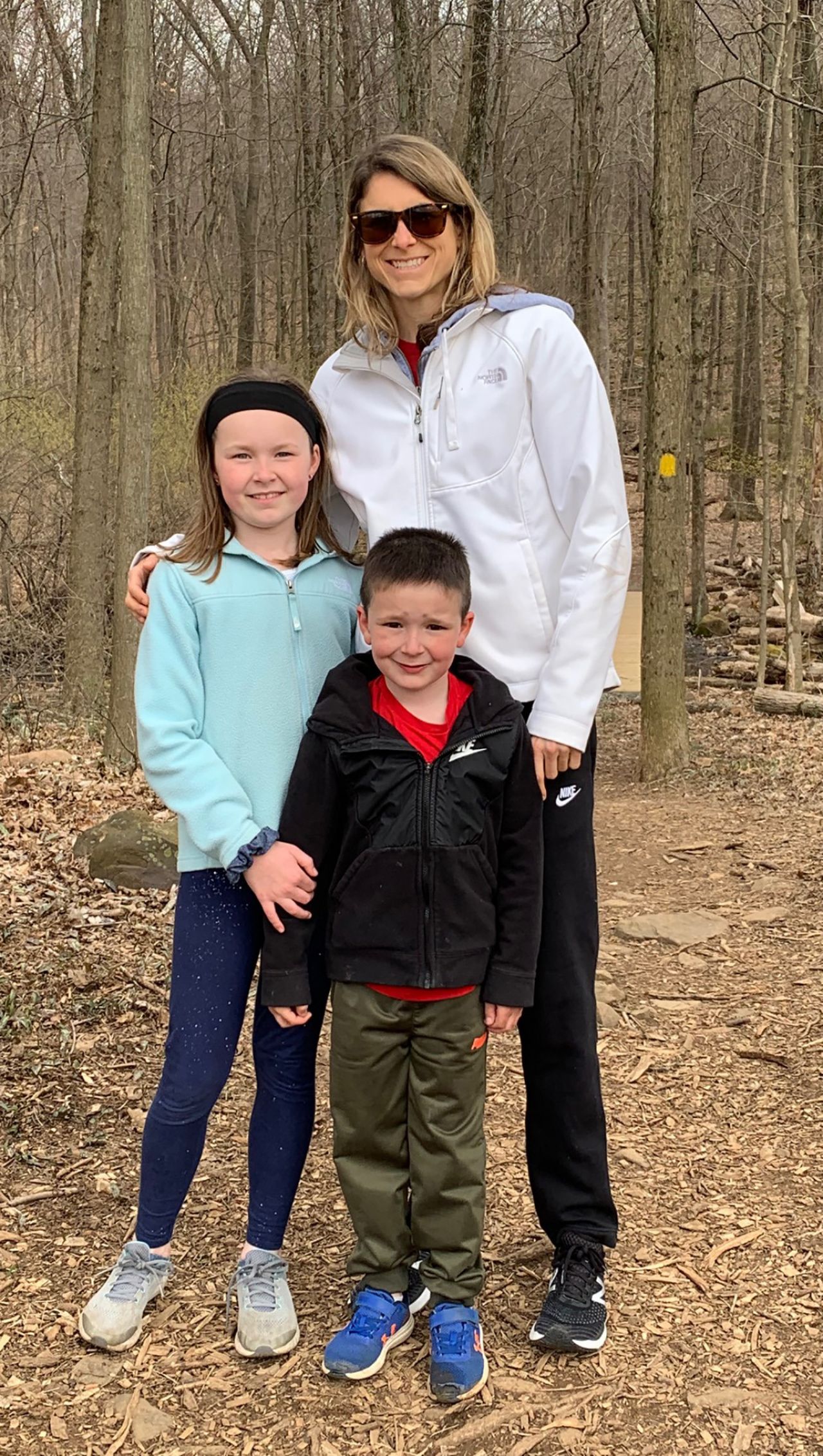 "When we started having daily COVID calls that was another point where you knew things were going to get crazy. They mobilized us to work from home and wanted to keep as many of us off the Bristol campus as possible. Usually there are 4,000 people there, and at one point there was less than 300, which is just amazing.
"Typically I'm up before the kids and at computer trying to tie some things up quickly. Then it's multitasking, with conference calls and the kids' school work. They're typically done by 10:30 a.m. or so and then I spend the rest of my day on calls or with meetings. I try to sneak in a workout in the middle of the day — getting that done makes me feel like I've accomplished something — and try to step away from things at 5 p.m. or so and not check back until they're in bed. But, drawing that line between home and office, especially when your kitchen counter is the office, is hard. In the beginning it was just survive and advance. Now I've gotten better at sticking to a routine.
"My husband works in construction and that was never shut down in Connecticut, but we were able to make things work pretty well. Perhaps not surprisingly, I'm a planner. My daughter plays basketball and softball and I coach. There were supposed to be basketball practices and softball practices. My son was supposed to do T-ball this spring. I had our March calendar hanging up on the cupboard, with all the color coded notes. At one point, I just crumpled it up and threw it in the trash.
"I've been really proud of what our people and teams have done considering the changes we had to make pretty much overnight. On a typical week, we might have five guests over the course of a day. Now, they're booking 15 or more on a given day. For example, the group booked over 100 guests in five weeks just in relation to 'The Last Dance' documentary. Names like Magic Johnson, Shaquille O'Neal, Dennis Rodman and many others. Of course, the athletes who the group is asking to appear on shows have less to do themselves, so they've got more time to do interviews, but the coordination for those things still matters a lot.
"On radio, chemistry is key, so the physical setup of the producers and the hosts is really important. In 'normal' times, we used to have maybe seven people in the same room or studio area. You could rely on body language to make things work. Now, there are two people in the studio — more than six feet apart — and the rest are working off Bluejeans or Zoom from their houses. It's different, but there's a sense of camaraderie.
"Our content strategy group would typically plan quite a bit ahead and we can't do that now just because we don't know what will happen. I just try to be optimistic and keep working. This is temporary, no matter how long temporary will be. I'm hopeful for the time when we can return a bit more to normal. Not only does my livelihood depend on it, but I'm a huge sports fan."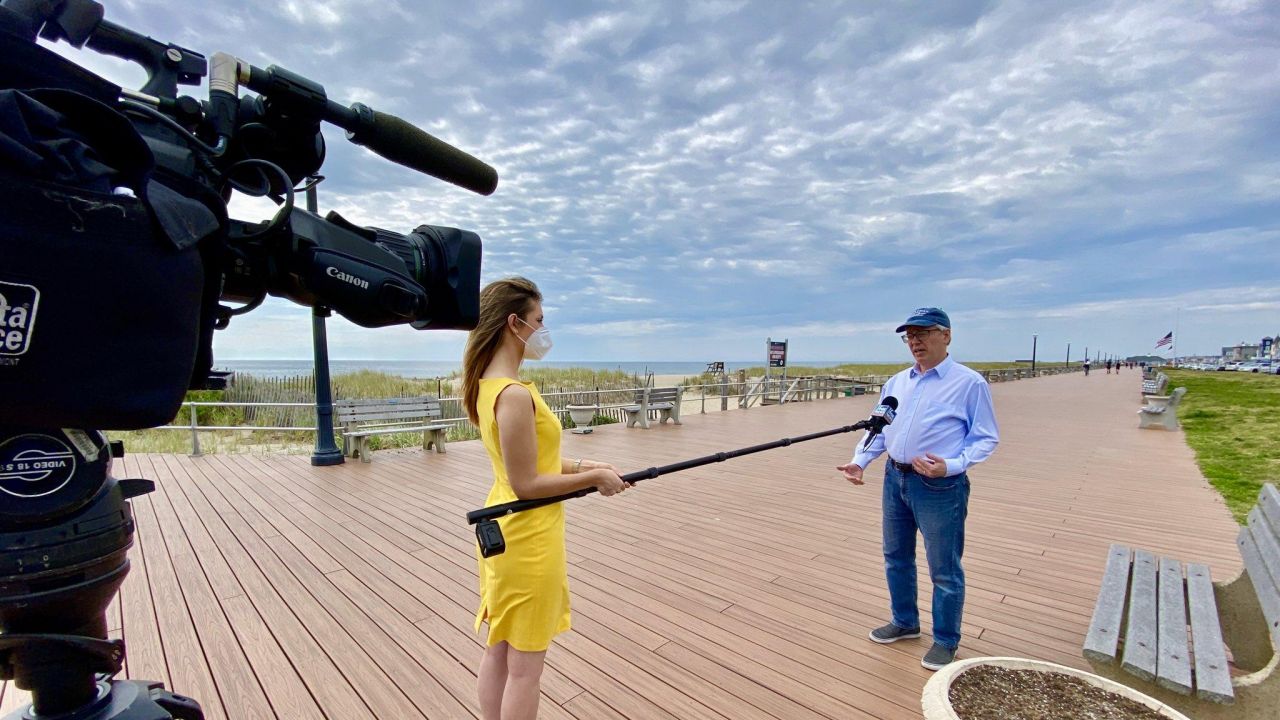 Alex Hogan ('16 Journ)
Fox News / Network Correspondent
Less than a month into Hogan's job at Fox News, she found herself in the middle of the biggest global news story in nearly two decades. Working in New York, Hogan had to adapt her reporting to a new home while the city itself was adapting to its own challenges.
"Journalism is a job where we'd always joke that you could never take a lunch break, let alone work from home. So, now it's definitely changed the norms of how we're approaching this job. Everyone is working from home and practicing social distancing. We are conducting our interviews on Skype, Zoom or phone calls. It's been a challenge, but at the same time it's kind of humbling thinking that we're all going through the same thing at the same time. We are adapting all of our roles and needing to quickly meet the current requirements for our health and safety.

"In January, one of my first stories was going to Regeneron, which was a lab that's working currently on the virus. We interviewed the different scientists who were working on it. As things continued to grow and change and seeing that progression, it was very neat to experience that live. Of course, this is a moment in history that we're going to look back on forever. Getting to be there in those weeks as we learned more and more and understood the severity of this and getting to go through the first drive-through testing site in New Rochelle and getting to be there the day that journalists were allowed in for the first time – those are all moments that were very humbling.
"I think one of my favorite parts of journalism and the reason that I fell in love with it in the beginning was that it gives you the ability to get into someone's mind. So, it really allows people to empathize with people that they might have otherwise held bias toward or thought that their stories didn't affect them. Now being in a crowded city like New York City, you can look at any person on the street, and you can try to imagine some of their moments of joy or some of their moments of pain. But for the first time ever, everyone that you see is navigating the exact same challenge at the exact same time. We're all living the story together.
"Growing up, I moved constantly. I moved from one place to the next, one city to a new country constantly with my parents' careers. Now with my own career as a journalist, I have constantly been moving. And that constant change of being in a new place, being by yourself, learning to adapt — whether it is new cultures, new languages, new cities — and just always being on my toes that at least emotionally prepared me.
"I run as a good stress relief. I meditate. I do a lot of yoga, and then I read a lot of books and rely on my loved ones. And those are all skills that have helped me personally be able to release some of the stress of covering this story. This is a story that affects everyone. This, for the first time, affects us as journalists. I think it has taken an emotional toll on some people. And I think having those skills to be able to adapt and clear your mind is really important. I'm thankful that I have a background of moving and constantly being ready to go for the next challenge."
Tom Phillips ('11 Journ)
WWE / Broadcaster and Producer
While sports generally shut down across the globe, sports entertainment, specifically the WWE, did not. After a brief hiatus, live TV shows and pay-per-view events like WrestleMania continued in front of closed sets with essential personnel only, including at WWE's training facility in Orlando, Florida. Still the approach and programming were notably altered.
"​Many aspects of the job have changed drastically, but our entire announcing team has done a fantastic job adapting to all the changes presented by the current global situation. Since our program now emanates from a closed set with only essential personnel, we've had to acclimate to broadcasting without the presence of a crowd. Without them it's certainly presented a lot of challenges, but it's also given way to some very creative solutions, such as the innovative Boneyard Match between The Undertaker and AJ Styles.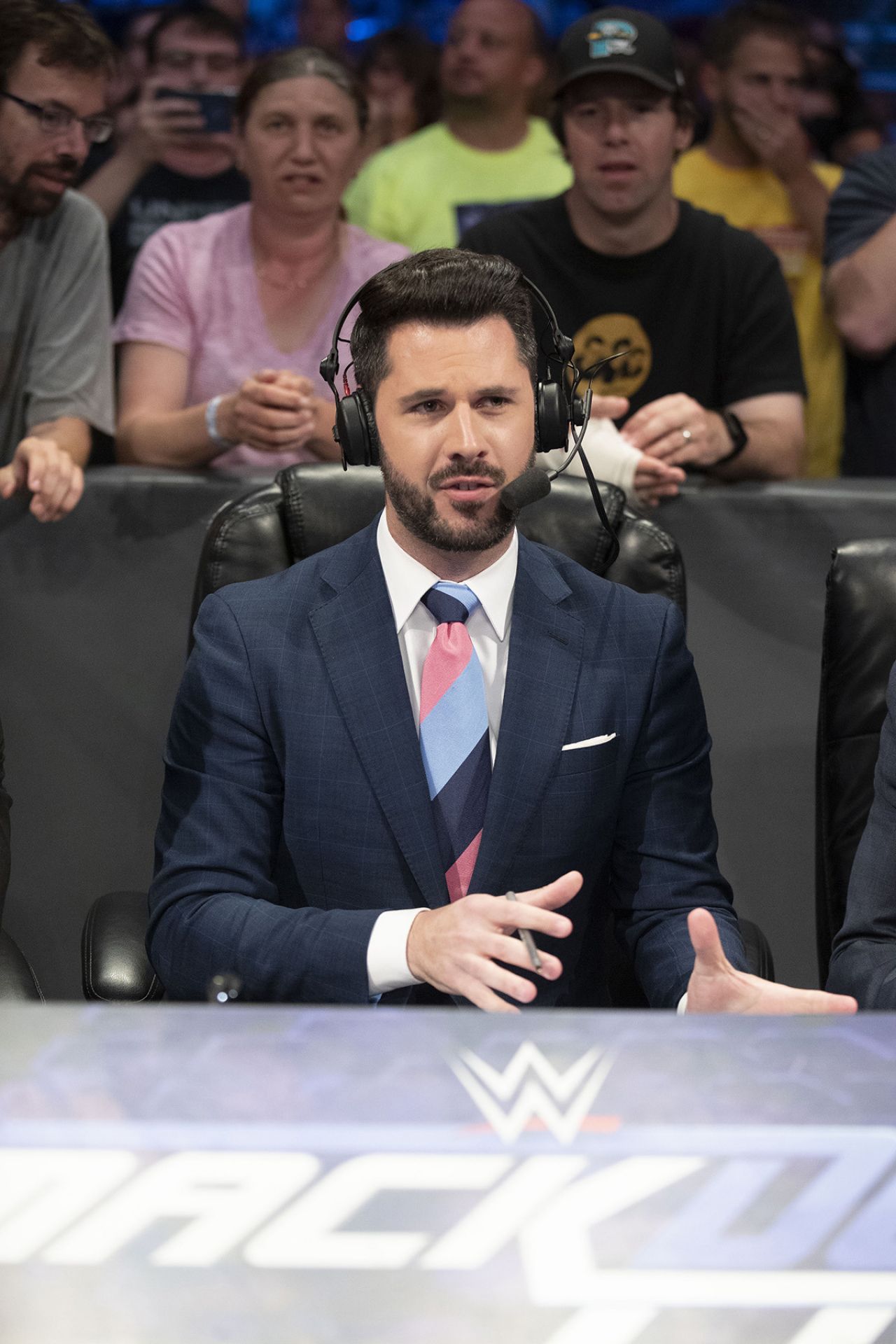 "​Before things changed, my days at TV would consist of late morning meetings, several hours in the arena to prepare for the broadcast, doors to the public being opened, and then going live shortly thereafter in front of a sold out crowd. We were all so accustomed to breaking basically two hours before the show went live to head backstage and make our final preparations. Now we have more time to utilize, and we can work basically right up until we go live.
"Moments where the crowd added to the soundtrack of the broadcast are obviously not there, so we have to pick it up in those scenarios. One of the more fascinating things has been finding the moments where the silence tells more of a story than commentary would.
"​This time has certainly made me appreciate — even more than I did before — the effort of my coworkers and the relationships we have as one big team. We spend a lot of time normally on the road and away from our families. Knowing you have a group of extraordinarily talented people in the trenches alongside you is spectacular. I've also benefitted from the time spent with my family at home and connecting virtually with our friends.
​"When I first started working at the WWE Performance Center, our method of practicing was to call matches in a soundproof voiceover room. Granted, you have a match dialed up on a screen for you to call, but you're alone in a room with your broadcast partners. In retrospect, that experience prepared many of us to call matches without a crowd. You never know when an opportunity in your career is going to come back around to benefit you."
Jordan Tracy ('16 Journ)
WTAJ-TV / Host of "Studio 814"
As the host of an upbeat afternoon news magazine program, "Studio 814," Tracy found challenges with the change. Still, he remained focused on a positive approach.
"It's a weird time. My job is to interact with the community and be out and about with people, and we haven't been able to do that. My co-host, Rebecca, and I have a small little office in the newsroom, but we got moved out because of social distancing. We are now where the sales team cubicles are, because the sales team is working from home.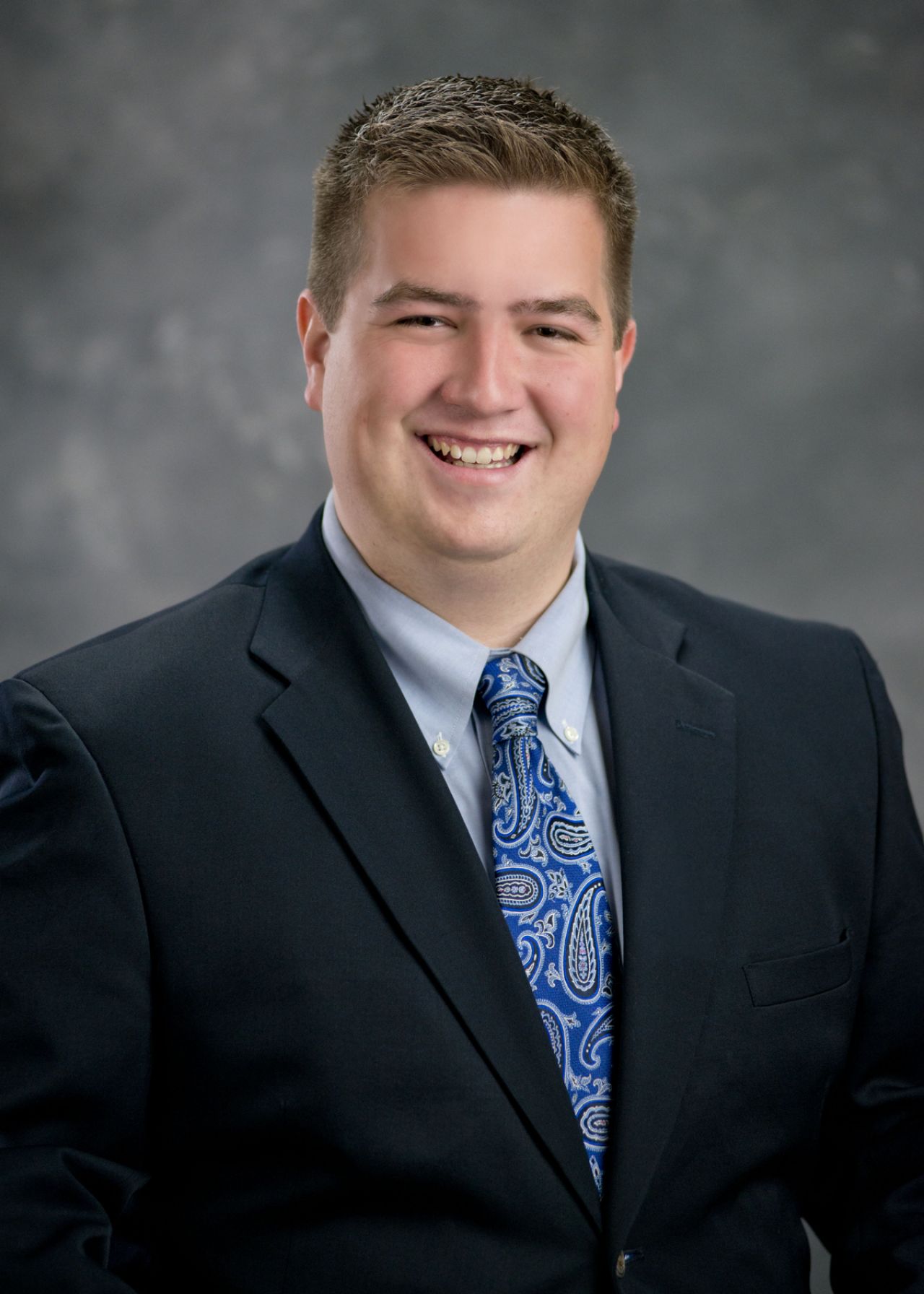 "We usually interact with each other sitting at other people's desks and talking face-to-face, but now we utilize email, Microsoft Teams, and Zoom. I'm still getting used to wearing a mask around the office. We're not wearing them on the air, but we do wear them in the studio and when we're walking through the building.
"It's definitely learning as you go. I don't think any of us could have been prepared for this. What has helped, if you're thinking from an educational point of view, is the fact that we had educators who had worked in the field. Steve Kraycik and Brian Shoenfelt prepared us well. The professors who did TV reporting. My professor was Dave Aneckstein, and he had been out in the field. He judged us hard to be able to do everything by ourselves.
"Today, we're doing everything by ourselves. Our teachers knew how everything worked and the importance of being adaptable when things change. So, I think the adaptability part was something we definitely learned.
"There was a segment we did at the beginning of this when things were still kind of uncertain. And honestly, it kind of spurred out of my frustration. I was driving home from work or on the weekend, and I just saw people hanging out together in groups and being outside when we were told to stay home. So, I did a segment on staying home and staying safe.
"Our show is branded as a break from your normal news. Because of the 24-hour news cycle, you're getting all of the bad news about how many people are infected and dying. That is important information, but we should at least give ourselves a break once a day.
"For example, there's a senior at Glendale High School who created a book swap at the local post office up there. And the senior prom would have been this past Friday, so she did a video where she read a book for elementary students while she was in her prom dress, different things like that. We have a lot of small communities around here and the people are trying to find ways to provide entertainment and positivity for everyone else."