Campus
CommAgency teams up, adapts in the face of COVID-19 challenges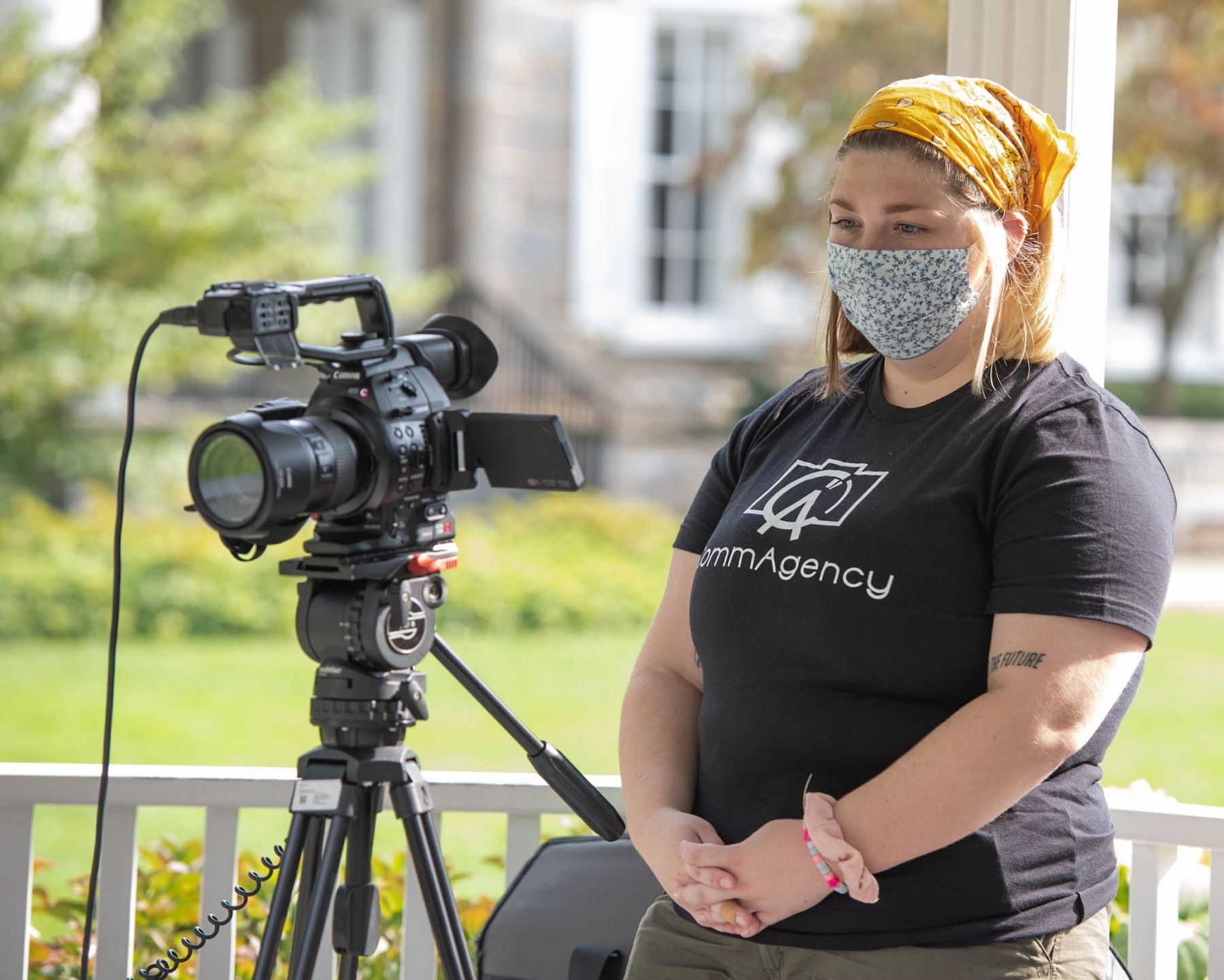 Penn State's student-run CommAgency has been delivering top-quality media content to the University community since 2017. This past year and a half, it has provided its 53 student members something too – normalcy.
When in-person classes and campus activities were cancelled in March of 2020, one might have expected that CommAgency would follow suit. After all, the student group relies on client relationships, photo shoots and live on-set production. But knowing how important CommAgency was to her students, director Catie Grant decided to press on.
"I really wanted it to keep going and when I asked the students, most of them said they wanted to keep going too," Grant said. "They wanted that feeling of normalcy. We really wanted to have that stability for them."
Located in the Donald P. Bellisario College of Communications, CommAgency is unique in a number of ways. Students have real clients. With professional equipment and resources, students help their clients achieve marketing and communications goals. Students are paid and it's very competitive.
Adapting to the new challenges was difficult at times, but it revealed new ways of doing business. It also gave students a small piece of the college experience outside their virtual classrooms. As a group, they met, collaborated and socialized as if they were meeting in the HUB or a downtown café. Alumni dropped in via Zoom and offered insight and motivation. There were game nights and CommAgency students shared and attended training webinars together. It became a community.
"It showed us how important it is that the CommAgency experience is not just a professional one," Grant said. "It's also a place where students can go to feel connected to one another."
Recent journalism and film graduate Grace Bradley joined CommAgency her sophomore year and became the executive student director last fall. She said the sense of community was an integral piece in not only surviving the school year, but thriving as content creators.
"Looking back, all of our members persevered and were open to the changes," she said. "It was a big ask and it may have felt like we couldn't get away from our computers … Zoom-fatigue is real … but I think we made it work."
Some divisions, like social media and graphic design, could do most of their work remotely. The photography, video and live production divisions were the most hindered by COVID-19 protocols.
Business was slow at first, said Bill Zimmerman, CommAgency's social media division faculty manager. Some departments were tightening budgets. Both clients and students faced a learning curve when it came to Zoom, Slack and other online communication tools. Luckily, most production work was complete by spring break 2020 before the shutdown. Things started to speed up once the group knew what they were dealing with.

The students delivered a high level of professionalism. They were very dependable and reachable for their clients.

Bill Zimmerman, CommAgency's social media division faculty manager
"The students delivered a high level of professionalism," Zimmerman said. "They were very dependable and reachable for their clients."
By fall of 2020, new safety precautions were put in place. A limited number of students and clients could meet. Masks, social-distancing, and regular cleaning of equipment allowed the video teams to get back to work. Zoom interviews were key.
"We've definitely adjusted things and I think it's worked really well," said Bradley. "Our clients are saying how great things turned out and they are grateful that we're still able to produce content."
Grant says Bellisario College students are typically engaged, creative and hard-working, which makes her job easier. At no time was that more apparent than this past school year. She said her students had every reason to quit, burn out or slow down, but most chose to keep going.
"We didn't know what was going to happen, and they had great ideas on how to work together and help each other out," Grant said. "It really energized me and helped put whatever anxieties and fears I had to the side. I wanted to be a strong presence for them."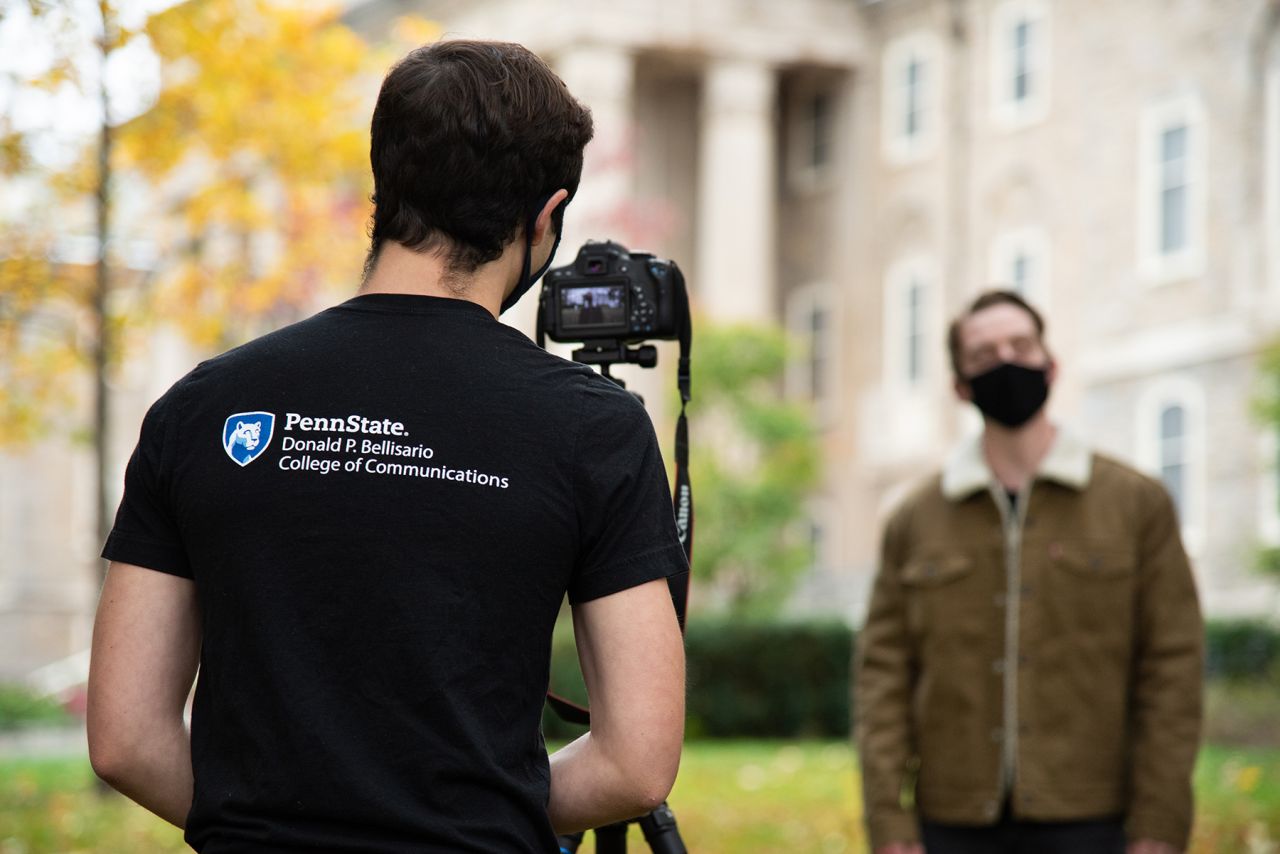 The community of CommAgency found a new role as challenges stretched beyond Zoom meetings and classwork. Some students' families were facing health issues and economic hardships due to COVID-19. Grant, her faculty managers and the students served as a support group, a "tether back to Penn State," Grant said.
"Mental health is a really big thing that Catie and I emphasized to everyone," Bradley said. "A pandemic is hard on mental health … it's hard in general. If you need a break, take a break. You come first and that's your number one priority."
Zimmerman said the challenging year has made the organization stronger. It brought the teams together. It made the organization think differently, which changed strategies and routines, likely for good.
This past year, CommAgency welcomed Penn State Harrisburg to its client list, its first non-University Park partner. A Zoom-based operation helped make that happen. Zimmerman hopes to welcome more to the fold.
"We just need to continue to get the word out and build our appreciation for strategy and getting results," Zimmerman said. "I think we're ready to take it to the next level."