Campus
Hammel family honors late brother, journalist, with scholarship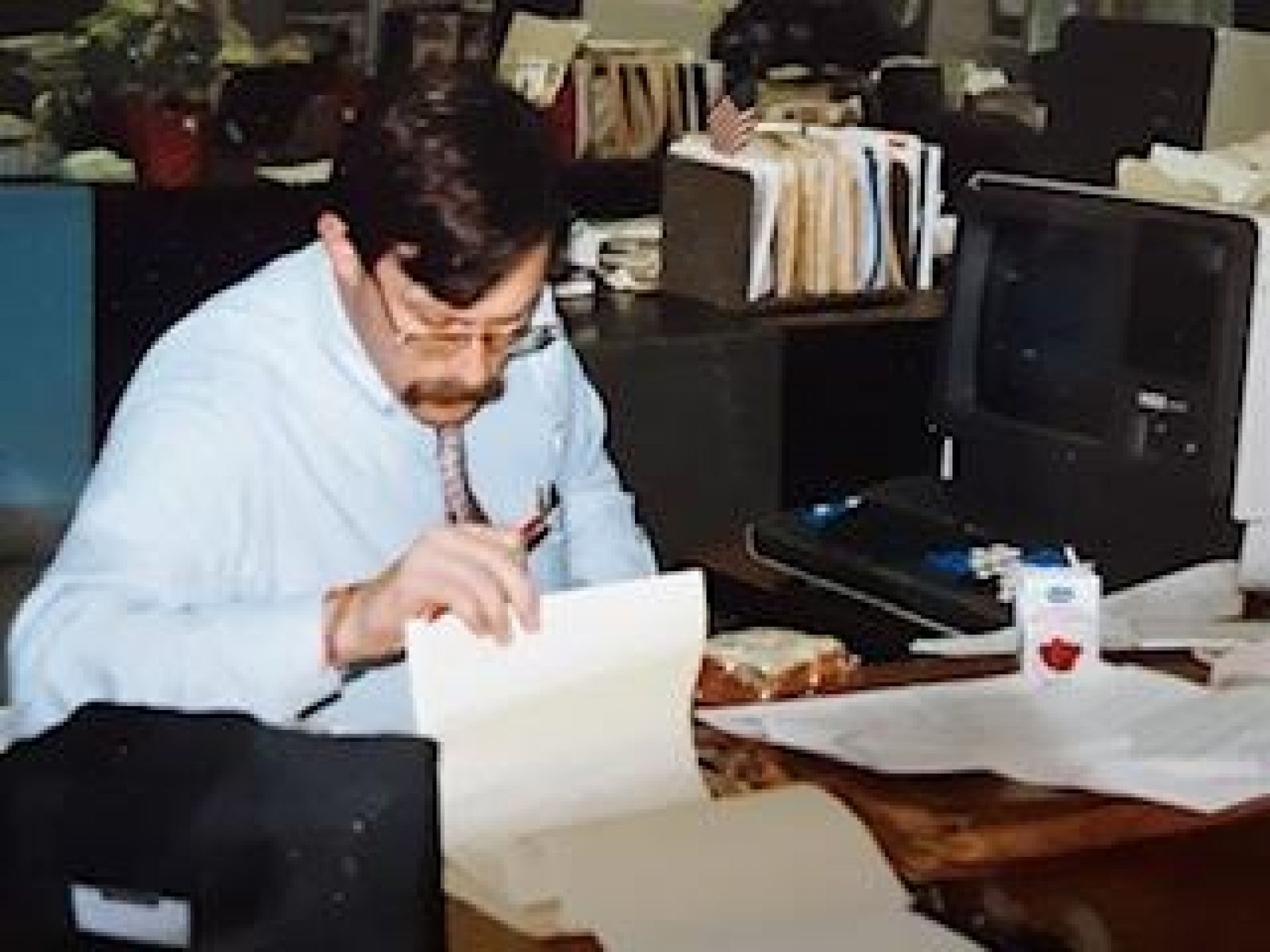 Brothers Victor, Robert and Steven Hammel have committed $100,000 to create the Lee M. Hammel Memorial Scholarship in honor of their late brother, who was an award-winning journalist in Massachusetts. The scholarship will be awarded to graduates of Pottsville Area High School attending any Penn State campus, with a preference for students studying journalism or communications.
The four brothers grew up in Pottsville and attended Pottsville Area High School. Lee Hammel subsequently studied at Boston University and pursued a distinguished career in journalism, working as a newspaper reporter for the Worcester Telegram and Gazette for 40 years. He passed away unexpectedly of a heart attack in 2017.
"Lee had a true passion for journalism," said Steve Hammel. "He worked extremely hard at his craft, putting in long hours and often working weekends and holidays. And he cherished journalism as the bedrock of our democracy. Whatever issues he was covering — politics, public transportation, mental health, teen addiction, prisons — he was always driven by his fundamental honesty and his commitment to getting at the truth of the matter."
It was to honor Lee's dedication to excellence in journalism, and to inspire a similar dedication in future journalists and communications professionals, that the surviving brothers chose to create a scholarship in his memory. While Lee himself did not attend Penn State, both Vic and Bobby Hammel are alumni.
"Bobby and I can attest to how important Penn State has been to our lives," said Vic Hammel. "It provided us with a solid educational foundation for our careers, and in my case, I also met my wife, Dena, while we were both students there. But our affection for the University is not just sentimental. We recognize the tremendous quality of the institution overall and of the Donald P. Bellisario College of Communications in particular. So we believe this is the perfect way to invest in the success of future journalists and communicators."
The Hammel brothers said they also understood that Penn State is a popular choice for Pottsville Area High School graduates, but these students, like most of the University's undergraduates, typically have to rely heavily on loans and other types of financial aid to afford that education. A scholarship at Penn State allowed them to honor their family's connection to the city as well as to memorialize Lee.
"Pottsville is where we all started," said Bobby Hammel. "We fondly recall our days growing up there and attending Pottsville High, and Lee did, too. We wanted to give back by providing Pottsville graduates with the chance to have even greater experiences at Penn State than Vic and I had. We hope this scholarship will allow them to focus more on their academic and co-curricular activities and spend less time working to meet their expenses, while also minimizing their college debt."
"Scholarships are crucial to Penn State's mission of educating promising students regardless of their financial background, especially in fields like journalism that need to reflect a wide range of voices and experiences," said Marie Hardin, Dean of the Bellisario College of Communications. "It is doubly exciting that this scholarship bears the name of someone like Lee Hammel. Lee exemplified the values that define true communications professionals: excellence in our work, ethical and engaged participation in a multicultural society, and the responsible use of communications in service of the greater good. I am honored that the Hammel brothers have entrusted Penn State with Lee's legacy in this way, and I look forward to seeing the impact that the Lee M. Hammel Memorial Scholarship recipients ultimately have on their fields."
The Hammel brothers said they hope that the recipients of the scholarship strive to display the values and dedication to their work that Lee embodied in his career.
"We also hope that as these students become successful in their own careers, some of them might in turn give back, to Penn State or elsewhere, and help future generations of students forge their own paths to success," said Vic Hammel. "That would be a beautiful way to keep Lee's memory alive for a very long time to come."
Vic Hammel earned his degree in accounting from Penn State in 1967 and is chairman emeritus of Rentokil Pest Control, North America, and a retired co-owner and CEO of Ehrlich Pest Control. Vic and Dena Hammel are co-chairs of Penn State Berks' committee for "A Greater Penn State for 21st Century Excellence," the University's current fundraising campaign. They have made several major gifts to Penn State, including a joint gift with alumni Irvin and Lois Cohen to create the Cohen-Hammel Fellows Program at Penn State Berks, as well as support for the University's Holocaust, Genocide and Human Rights Education Initiative.
Bobby Hammel graduated from Penn State with his political science degree in 1973 and is also a retired co-owner of Ehrlich Pest Control. He and his wife, Bonnie, have made gifts to Penn State Hillel and the Richards Civil War Era Center in the College of the Liberal Arts. Steve Hammel graduated from Syracuse University in 1977 and then spent forty years in broadcast television, eventually running stations in Phoenix, Arizona, and Raleigh, North Carolina. He retired as vice president and general manager of WRAL-TV and FOX 50 in Raleigh in 2018.