Alumni
Love of music powers Bellisario College alumnus' career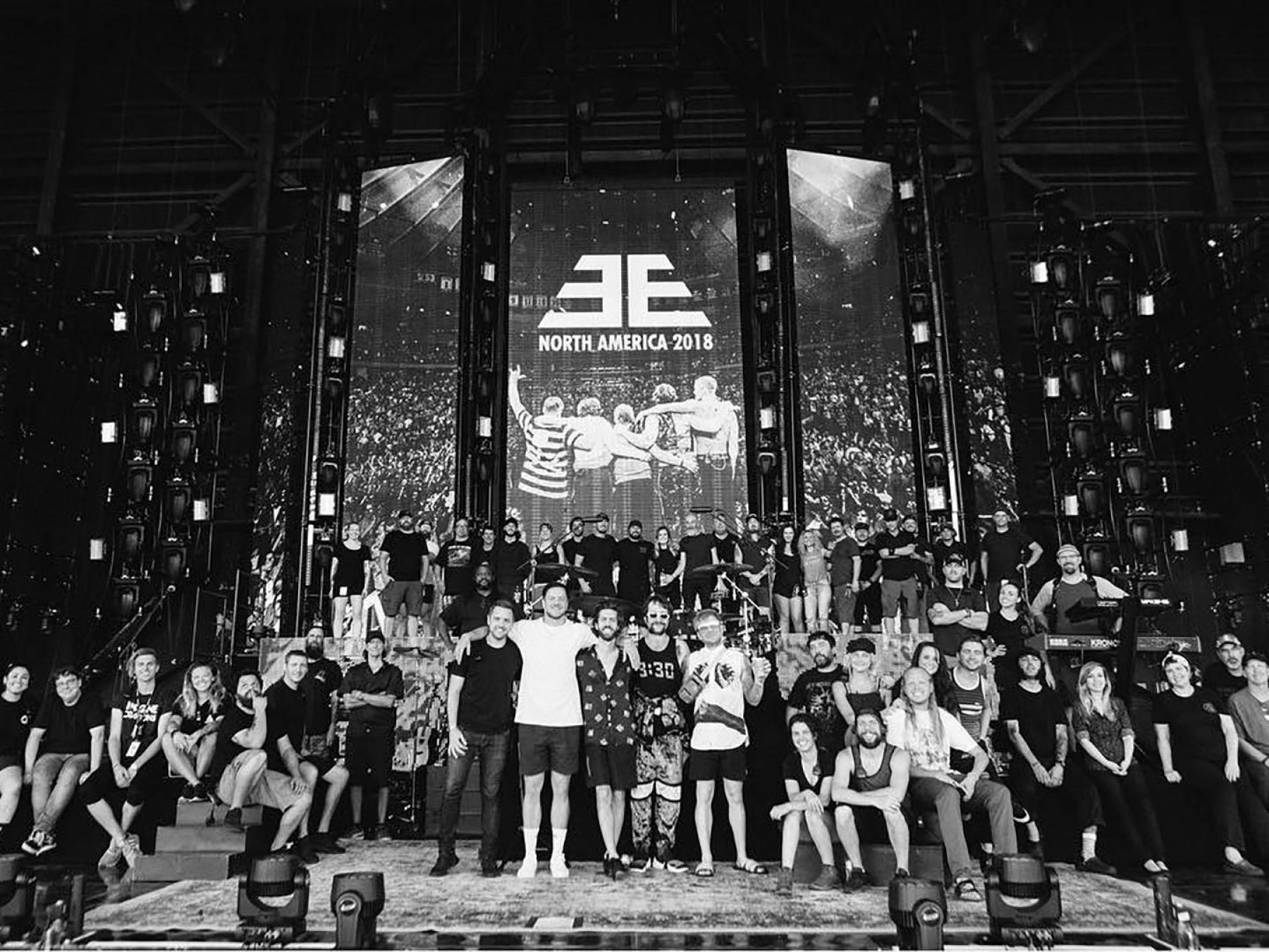 Where there is Drew Magid, there is music. In his car, at home, at work, from sunup to sundown, the Penn State alumnus always has music playing. And he listens to everything, all genres and artists old and new.
"I can't focus if music isn't on," Magid said. "It's just such a part of me."
More than a fan, Magid is a rising star in the music industry. Since graduating from the Donald P. Bellisario College of Communications in 2011, he has gone from planning shows at a friend's house to organizing a world tour for a well-known American band. Today, he is an artist manager at Big Loud Management where he represents the Nashville-based R&B singer Bren Joy and country singer Chris Lane.
Magid attributes his success to a few things: love of music, relationship-building, and chipping in whenever possible.
Love of music
The soundtrack to Magid's life begins with top-40 radio in his parents' car. But the volume doesn't turn up until he first picks up a guitar. That was the game-changer.
In high school, file-sharing apps like Napster and Limewire were huge. Video games like Tony Hawk's Pro-Skater featured real songs from popular and upcoming bands. This all fueled Magid's infatuation, and he began dreaming of working in the music industry.
"I was obsessed," he said. "Whether it was playing or listening, I could not consume enough music."
Growing up in Doylestown, Pennsylvania, 25 miles outside Philadelphia, Magid figured he'd end up in the city for college before starting his career in music. He chose Penn State instead, and he's glad he did. State College didn't have the "10 shows every night," like Philly, but the college town opened the door for Magid and his friends to create a scene of their own.
"I played in a band, and we toured during breaks," he said. "We used to do shows at my buddy Joe's house. We called it Casa Blanca and we'd book all of these crazy touring acts … mostly punk rock."
Magid found ways to build a space for music lovers at Penn State. In addition to classes, he enjoyed student groups and internships that focused on providing all kinds of music to the community. His advertising-public relations degree helped him appreciate that an artist — from writing songs to making music videos to planning tours — is a brand, "no different than Adidas or Nike."
Magid was vice president of the Asylum, a student group that brought touring bands to town and campus. He also interned at the State Theatre in downtown State College and at a small independent label in Southern California. Those experiences helped him tune his skills before graduating.
"If you're passionate about something, you make it happen," he said. "I just tried to do as much as I could to create a music community at Penn State while I was there."
Relationship-building
"You never know what little connection is going to lead you to the next big thing," Magid said. He believes the chance to make a connection or learn something new should not be taken for granted. This may be where Magid excels the most.
Lloyd Norman, vice president of special projects at Big Loud, says "It's not who you know, it's how much they like you … and everyone likes Drew."
Norman added it's important to be a kind and good person. "Drew embodies that" in how he treats other people.
"Literally anything I could do, I wanted to be a part of it … and I dove in headfirst."

Drew Magid
As Penn State graduation approached, Magid applied for an internship with Red Light Management, a massive company that represents acts like Dave Matthews Band and Chris Stapleton. During the interview, he and the interviewer made a connection and in less than a week, Magid was on tour with the rock band O.A.R.
"He told me the band had a summer environmental awareness program, and would I be interested in going on the road and running it," Magid said. "That changed everything for me."
It may have seemed small at the time, but what started as an interview for an internship set the stage for something much bigger. But when the O.A.R. tour ended, there was a bit of culture shock. After life on the road in tour buses and hotels, Magid was back home in Doylestown playing for 15 people in a punk band and working at a local pizzeria.
"I remember doing that and saying that I would never take an opportunity like (touring with a band) for granted," he said. That statement would be tested when that next opportunity came by phone call during one of his shifts at the pizzeria.
"O.A.R.'s manager called me and said, 'There's a band called Young the Giant and their manager is going to call you. They need [someone to run the merchandise table) in Denver in 48 hours,'" Magid said. "I took the call. I was in the middle of a shift."
Magid wasn't going to let the opportunity pass. He walked out on his tables and was promptly fired. He hopped on a plane for Denver.
Chipping in whenever possible
Back with O.A.R, the environmental initiative was a small but important part of the tour. Magid worked with venues to make sure recycling was available at the show. He also ran an awareness tent and helped to make the tour greener. But he knew he could do more.
"I realized I had a lot of time to do other things, so I asked the tour manager if there were other ways I could help," he said. "By the end of the tour, I was helping at the merch table and doing orders for the production assistant and helping the audio guys on stage."
He added, "Literally anything I could do, I wanted to be a part of it … and I dove in headfirst."
Similarly, when it was time to fly to Denver for the Young the Giant tour, Magid said, "I had no idea what I was doing. I just put my head down and did everything possible to tap every resource I could find and make sure I was doing the job to the best of my ability."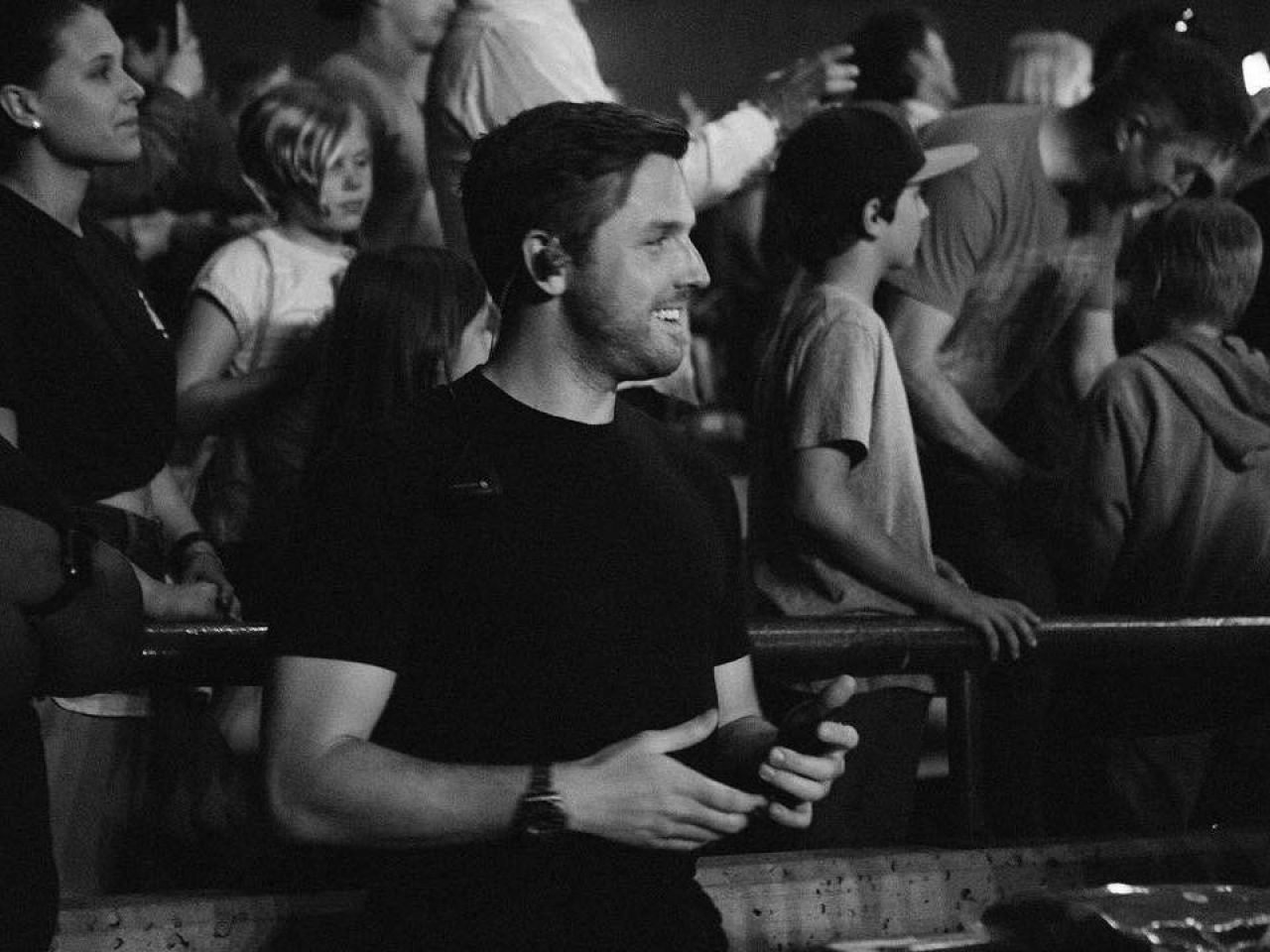 Magid's reliability and openness to new challenges catapulted him to other opportunities, which ultimately led him to tour managing the rock band Imagine Dragons' worldwide Evolve tour in 2018. The tour consisted of 140+ shows and shuttled 90 staff members to four continents over two years. There were 10 tour buses and 12 tractor trailers in the U.S. tour alone. It was Magid's job to "keep the ship floating" and make sure the next stop had everything the band needed.
"No matter how much you meticulously plan, there's going to be changes," he said. "It's the nature of the business and you have to be ready."
Every stop on the tour offered new challenges. There wasn't much sleeping and there were many moving pieces, but Magid said he wouldn't trade the experience for anything.
"I am thankful that I did it," he said. "I was 28 or 29 years, touring the world, meeting incredible people, and it was amazing."
The dream
Magid may have journeyed around the world, but his path was always working toward becoming a full-time manager. When he left the Imagine Dragons tour, he decided it was time to stay in one place and put his energy into representing a band or artist.
In February 2020, he stayed with Big Loud Management to represent Bren Joy. He says the singer is a "phenomenal performer and writer" who is "R&B but is pop and alternative sensible at the same time." Of course, the following year was a challenge. Venues were closing and artists could not tour due to the COVID-19 pandemic.
Today, venues may be finally opening, but the protocols can be confusing, and safety measures are constantly changing. Lucky for Magid, he's built his career on being reliable, adaptable, and ready for anything.
"Drew is going to take over the music industry," said Stu Berk, musician and production manager for singer Brandi Carlile. "He's going to be one of those guys in the lead that people talk about. When you think about who the power players are in music, Drew is going to be right up there.""Literally anything I could do, I wanted to be a part of it … and I dove in headfirst."