Student
Penn State student finds community; makes her mark on campus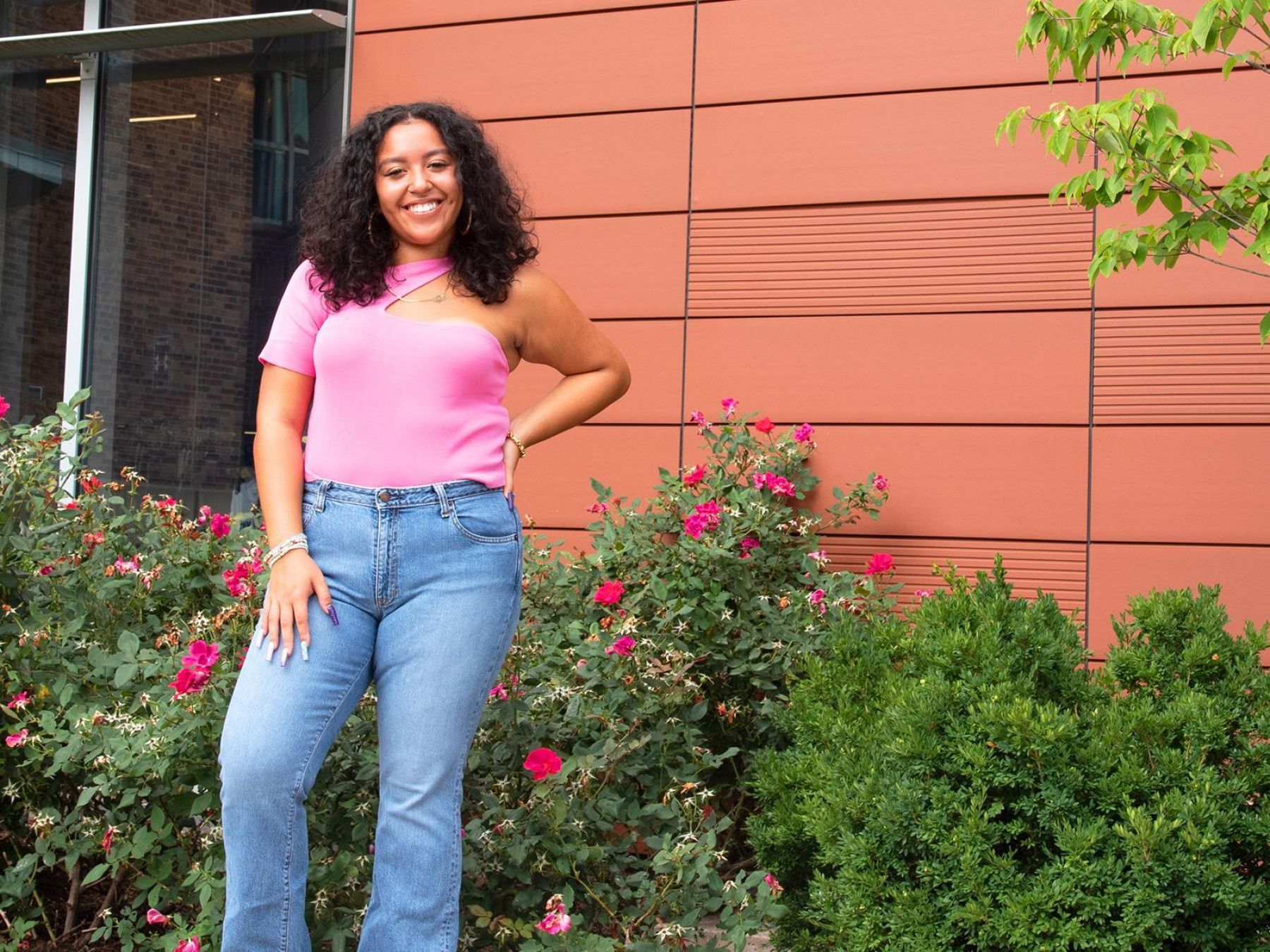 The first time Heidy Canales stepped onto Penn State's University Park campus, she fell in love with all the University has to offer.
But Canales, who hails from Prince George's County in Maryland, knew she wouldn't be able to afford the cost of tuition, housing and other related expenses. With her parents and siblings having been born in El Salvador, Canales was the first in her family to be born in the United States and saw how much her parents sacrificed to financially support her family.
"I am granted a lot more opportunities and access to things whereas (my parents) aren't because they're immigrants," Canales said. "I think that is what drives me to make sure that everything that I do is intentional."
During her senior year of high school, Canales visited campus for an event called "Achievers" run by the Student Minority Advisory and Recruitment Team (SMART), a student tour group aimed at recruiting ethnic minorities and sharing the success of underrepresented students at Penn State.
"It was the best decision I ever made," Canales said.
During the visit she met Gary Abdullah — the assistant dean of diversity and inclusion in the Donald P. Bellisario College of Communications — and discussed her interests and goals. She was honest with Abdullah, expressing her desire to attend Penn State but also sharing her financial struggles.
Through that initial interaction and a later virtual meeting, Abdullah offered Canales a spot in the Bunton-Waller Scholars Program — a scholarship offered to students who have demonstrated academic potential and would "enhance the broad and diverse student population at Penn State." The program was named in honor of both Mildred Settle Bunton (1932), the first African American woman to graduate from Penn State, and Calvin Hoffman Waller (1904), the first African American individual to graduate from Penn State.
Receiving the scholarship allowed Canales to attend Penn State, where she has since become heavily involved in various student organizations and academic programs — an opportunity she originally didn't think she would have.

"Penn State is not just any school. It's a big deal"

Heidy Canales
"Penn State is not just any school," Canales said. "It's a big deal."
Still, Canales' motivation comes in part from believing she is more than solely her accomplishments.
"It's always betting on yourself and believing that you belong here," Canales said.
In her final year studying public relations with minors in Latina/o studies and Portuguese, Canales holds myriad leadership positions. She serves as the president of the Latino Caucus — a student organization dedicated to bettering the Latino community at Penn State since 1989 — as the co-director of programming for a new organization in the Bellisario College called the Bellisario Alliance for Multicultural Students (BAMS); as the publicity chairman of her sorority, Alpha Kappa Alpha Sorority, Inc.; and as an intern in Penn State Athletics' strategic communications department.
Regarding BAMS, Canales is proud of the legacy the program will have for future generations.
"It's hopefully going to make an impact in all of the multicultural students that come through the College of Communications," Canales said.
Before that, however, Canales was the first ever representative of Latino Caucus in the University Park Undergraduate Association (UPUA) in her sophomore year, also serving in UPUA as a freshman council member and press secretary. UPUA voted to add the community representative seats in 2018 after multicultural student organizations called for increased representation in their student government. Also included in the community seats resolution were the Black Caucus and Asian Pacific Islander Desi-American Caucus.
In Latino Caucus, Canales also previously worked as the public relations director. She said her role leading the organization has kept her busier than she expected.
Leading Latino Caucus is a significant time commitment, but one that Canales said is worthwhile. She is most proud of the work she's done within the organization to help it grow.
"As the number of Latinx students grows, Latino Caucus has adapted and shaped into the unifying organization for Latinx undergraduate students," Canales said. "Even from when I first got to Penn State to now, Latino Caucus has pushed and adapted to the unprecedented changes we've had to encounter to better serve not just Latinx students but all marginalized community groups on campus."
In terms of her achievements at Penn State, Canales is most proud of the relationships she has formed, as getting involved helped her meet many new people.
"You come in thinking 'this is going to be the best four years of my life,' but it really plays out that way if you let it play out that way," Canales said.
One of Canales' best learning experiences at Penn State was completing the D.C. Social Justice Fellowship in the spring semester of her freshman year. The program — led by College of Education faculty members Efraín Marimón and Ashley Patterson — allows 12-15 Penn State students to train high school students in tackling systemic racism and inequity. Those accepted to the program create a social justice curriculum during the spring semester and then teach it during two to three weeks of summer in D.C. high schools.
Typically, first-year students aren't accepted to the program, but Canales was an exception. She and her classmates taught lessons on subjects such as immigration, sexual education, and mental health in Black and Latino communities. Canales learned the importance of having such tough conversations with younger students because those topics are often ignored.
"I've taken a lot of the skills that I learned in that experience into my role now and into the things that I want to do in the future," Canales said. "Through that fellowship I definitely was exposed to how to be a better advocate but also how to teach others how to use their voices to empower other people."
In addition, Canales was selected for the Latinx Leadership Institute (LLI) — a yearlong program that better connected her with the Latino community on campus.
Throughout her time at the University, Canales has been hyper aware of her identity, as she came from a diverse area to State College — a predominantly white region. She said when she walks into a classroom on campus, for example, she is typically one of about two Latina girls, which has been a culture shock. This experience has forced Canales to realize that being Latina provides her a unique experience.

"If anything it adds meaning to my Penn State experience because I have this community that rallies behind each other, that rallies behind standing up for what's right for us."

Heidy Canales
"If anything it adds meaning to my Penn State experience because I have this community that rallies behind each other, that rallies behind standing up for what's right for us," Canales said, "but at the same time I can go into a classroom and be myself because I'm aware of the fact that 'oh, I might not be like you but I'm me in every way and I accept that,'" Canales said.
While she thinks the University has work to do regarding its support Black and Latino students, Canales said she has enjoyed her time at Penn State because she found her community.
"It's 'Happy Valley' for a reason, I guess," Canales said.
Canales has had numerous mentors at Penn State who have helped her along the way.
"You never get to the place that you are on your own," Canales said. "They all definitely played a huge role in where I am today."
Abdullah said he has seen Canales grow in a variety of ways at Penn State, including her leadership skills and maturity.
"While I saw an energetic young woman the first time I ever met her, now she is someone who is confident and comfortable in who she is, and she really has the world in front of her," Abdullah said.
One of Abdullah's phrases is that his best students are his busiest students, specifically those who are busy with a purpose. Canales fits that category, according to Abdullah.
"Heidy has done the perfect job of combining her goals of academics with her ability to make sure she enjoyed college socially as well," Abdullah said. "She is amazing in the fact that she has become so thoroughly involved yet still found time to be herself and have fun. Many students have a hard time balancing the two and she's done it to a tee. She could offer a masterclass in working hard and enjoying yourself thoroughly as well, and I respect her for that because she never lost sight of any one side of her and she stayed true to her."
Upon graduating in spring 2022, Canales wants to work at the intersection of social justice and communications, using skills she's gained at the University.
Canales' advice for students who want to succeed at Penn State is simple: take advantage of every opportunity available and be unapologetically yourself.
"I'm in the positions that I'm in because I took a leap of faith on myself," Canales said. "It's always betting on yourself and believing that you belong here."