The Interview
Shaheen Pasha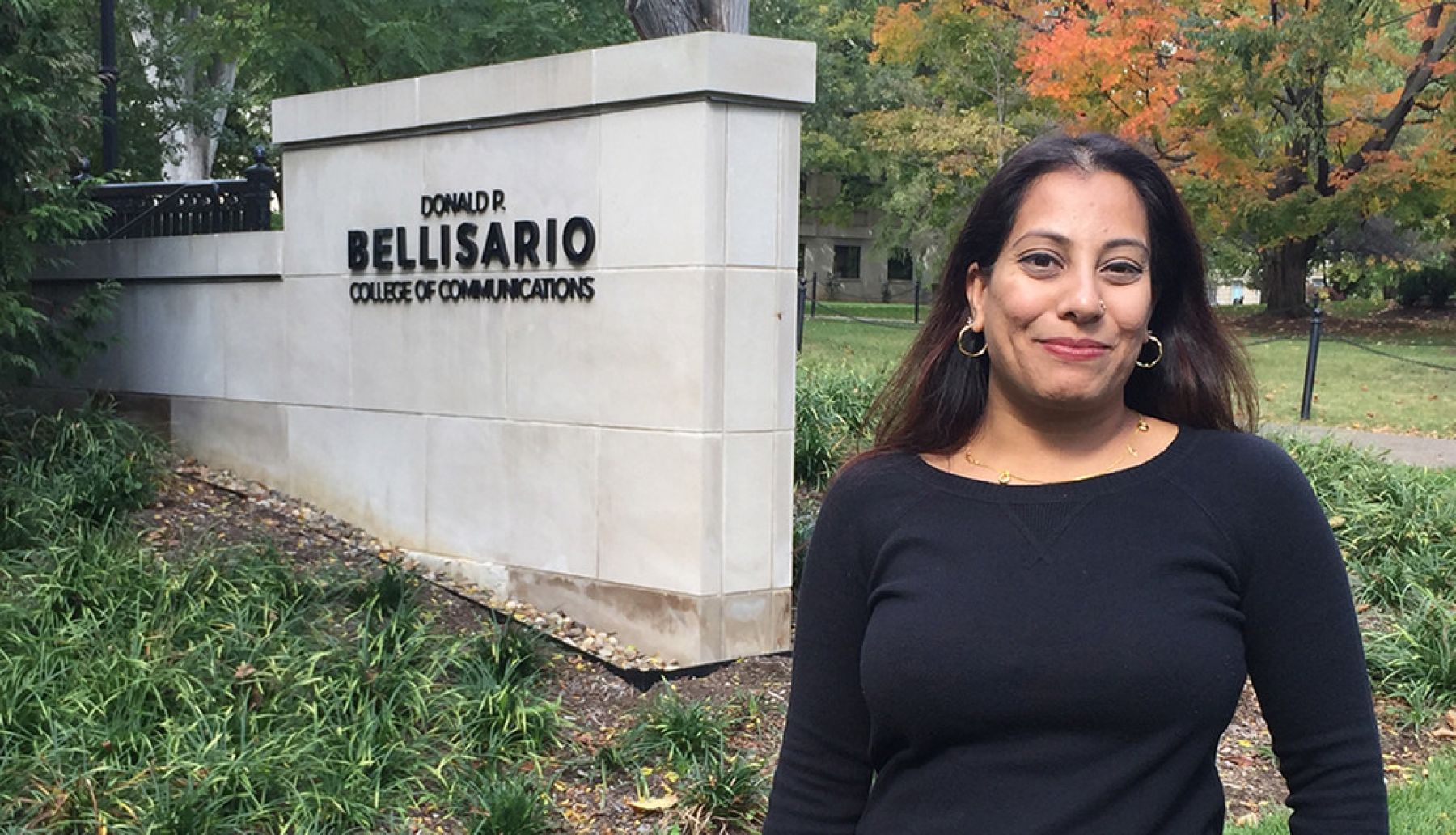 On her path to Happy Valley, Shaheen Pasha, an assistant teaching professor in the Department of Journalism, crossed through continents, countries, big cities and small towns. For 20 years, she worked as a journalist for outlets like Thomson Reuters and CNN covering mostly legal issues. Along the way, she gained experience in the classroom and developed a love for teaching.
After writing about high profile legal cases for years, a friend of Pasha's was sentenced to life in prison. She saw that her friend was not treated the same way as other criminals she frequently wrote about. This observation inspired the Prison Journalism Project, which provides prison systems the tools to teach incarcerated individuals the fundamentals of journalism. The program was in the works for years and officially launched in January.
This past August, Pasha started working in the Bellisario College for what became an unprecedented schoolyear for everyone. Pasha taught news writing and media ethics. Ever the optimist, she made sure it was the best year it could be for her students.
You have called a lot of places home. Can you run through some of the places that you've lived and discuss your path to a place like Happy Valley?
Well, yeah, this was not the destination that I saw 20 years ago. In terms of where I've lived throughout my career: I started in New York, I lived in New Jersey, then I moved to Cairo, Egypt. And from Cairo, Egypt, I moved to Dubai. And then from Dubai, I moved to Amherst, Massachusetts, which believe it or not, is slightly more rural than here. From Amherst, I came to Penn State. So, it's been a very weird route. It's not really something I expected, but it's been exciting.
What did you know about Penn State or central Pennsylvania before moving here?
Absolutely nothing. I think my first big question was, "How far is it from Philadelphia?" and it was one of those shocking moments: Wow, it's three hours from everywhere. It was kind of a challenge for me, because I think that I am a city girl. I was born and raised in New York, and I lived in a lot of cities. And then I moved to Amherst, which is very much being in the woods. And for here, it's a completely different vibe. It's a very different atmosphere. You know, State College is a little community. So, I think for me it's just kind of the next sort of exciting chapter to figure out.

The story of how you got here is pretty great. You actually applied for another job, but your prison journalism work caught Dean Marie Hardin's attention.
I applied for a completely different job and I made it as one of two finalists. It was really looking good. Then I got this call from Dean Hardin saying, "You know, you mentioned that you do this prison journalism work in Amherst, and that's a project that you're trying to build." It was about teaching incarcerated men and women how to do journalism and she knew it was something I was passionate about. I think I mentioned it 100 times during the interview, even though it had nothing to do with my job interview. Dean Hardin asked me, "Is that something you could do here?" And I'm thinking, "Pennsylvania? Yes!" It completely took me by surprise.


Why does Pennsylvania work well for a project like this?
One of the things about Pennsylvania is that, in terms of the penitentiary system, it's got a deep-rooted history. We have a number of prison facilities just here in central Pennsylvania, some within miles of Penn State, and they are a huge driver of the local economy and for the area. But you know, there's also a huge opioid crisis in the state. And, you see a lot of people that are impacted by that being incarcerated. If you go further toward Philadelphia, you have had a lot of reform movements coming out of there. So, a lot are trying to reduce prison sentences or take a look at past cases and exonerate people. The work that's been happening in Pennsylvania, in general, is very, very exciting.
You started teaching at University Park last August. It was a weird one, but how did your first year go at Penn State?
It's been a great experience. Even with the craziness, or maybe because of the craziness, it gave me the opportunity to get to know my students and develop relationships with them and also break down these barriers that I think professors and students have. We were all struggling, especially in the last part of the spring semester and it really sort of humanized everybody. I appreciated the diversity of thought … some very conservative students, some very liberal students. I had students of all types. Also, the excitement people had for my project. From day one, students would ask me, "Is there some way we can help? Is there some way we can volunteer?" So, it's been one of those things that I just really felt like, this was the right place to be for me this year. And despite the craziness, I think it was an excellent year.
Do you consider yourself an activist? Do you find that you include advocacy in the classroom?
Because I started off as a journalist, I'm still a journalist. So, I'm very hesitant to consider myself an activist, and I don't consider myself an activist. But I think there is a certain level of advocacy that comes into any type of work when you're dealing with a marginalized population. Whenever you have a group that has very little rights, and very little voice, they're marginalized. And so, I think working within that, in terms of shaping my teaching, makes me a better educator because I recognize the challenge. Obviously, I bring in things that a lot of students have not thought of. I write about prison. I write about prison reform. I write about prison journalism. But I also bring examples, like documentaries and I bring things that shape the classes in a way that students think about things they may not have ever thought about before.
How does introducing the role of journalism and journalism skills to incarcerated individuals help them?
One of the biggest problems is that people behind bars feel that they are forgotten. And when you feel forgotten or misunderstood, it does something to you. It doesn't give you the desire or the ability to improve your life, to make changes, because you think no one cares. What this program shows is that not only do people like me care, but that people also want to read about it. People want to read their stories. In addition to that, just the psychological benefits of feeling like they were understood and cared for, and that it gave them a sense of self power. It is an empowerment that they can be the people that channel their own narrative. Other people aren't writing it for them. On top of that, from an education perspective, journalism teaches you how to think critically. It teaches you how to have social skills, because you have to interview people. It teaches you how to express your thoughts in a way that moves people, and is still completely based in truth. What we found is that prison education, in general, actually reduces recidivism by a huge amount. So, you add those factors together, it's an absolute win because you're more likely to come out wanting to do good if you're educated and feel confident your own story, and that people care about it.