Obituaries
Donna Symmonds Clemson
('55 Journalism)
Longtime editor of The Penn Stater, adjunct instructor, journalist and community volunteer.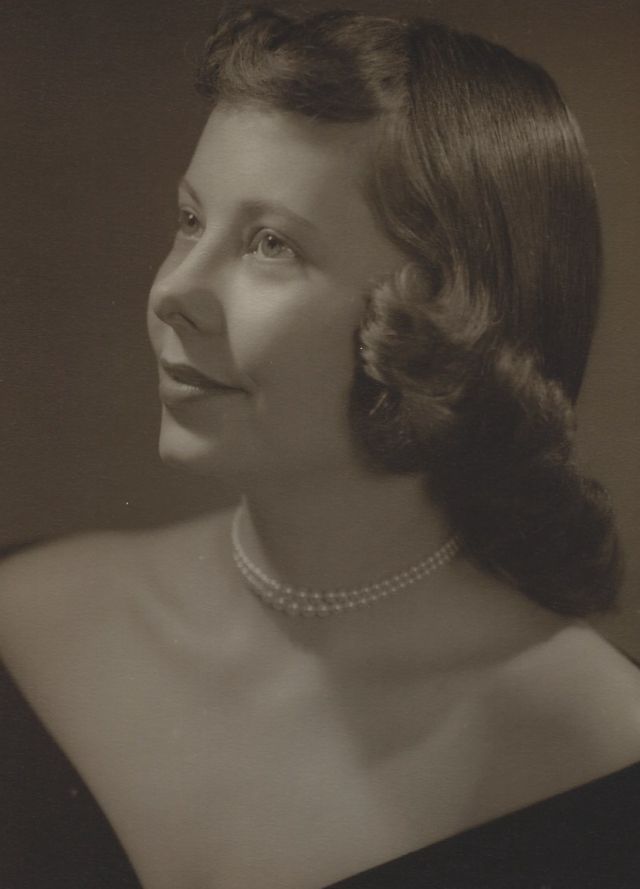 Donna Symmonds Clemson, 87, died in her home on Jan. 31, 2021, of colon cancer caused by Lynch Syndrome — a genetic disorder that predisposes carriers to a variety of cancers including colon cancer not caused by polyps.
Born July 18, 1933, in Bellefonte, Pennsylvania, she was the only daughter of Harry Clair and Frances L. Krouser Symmonds. Her father, an Army officer, was killed in Korea in October 1948 and is identified in its archives as the first American military casualty of the Korean War, two years before the war was acknowledged. Donna was 15 and her little brother, Harry, was 7.
In 1956 she married Frank Gray Clemson, who survives, along with their five children, 13 grandchildren and eight great-grandchildren.
Growing up in Bellefonte, Donna became captain of the varsity cheerleading squad and front-page editor of The Red & White newspaper at Bellefonte High School, where she graduated in 1951. Four years later she earned her bachelor's degree in journalism from Penn State, graduating in its centennial year, 1955, and then beginning a long journalistic career, starting as a newspaper reporter for the Meadville Tribune, later for the Huntingdon Daily News and, finally, for the Centre Daily Times.
At the Times for 10 years from 1957 to 1967, she was a feature writer and general assignment news reporter covering borough fire and police along with Patton and Ferguson Township government beats. She earned professional awards for enterprising news writing, editorials, government news series and photo features, but claimed that her only 15 minutes of fame resulted from her one-on-one interview with Thelma "Pat" Nixon in the dining car of a train going from Altoona to Huntingdon on a pre-election whistle-stop campaign tour in 1956.
In the early 1970s, during the Watergate surge in journalism admissions, she was recruited as an adjunct instructor for both beginning and advanced public affairs reporting classes at Penn State. In the three years prior to that she had been executive secretary of Collegian Inc. and served as adviser to both the news and business staffs of the Daily Collegian, before joining Penn State's Alumni Association staff as an assistant editor.
From 1975 until her retirement in 1993 she was editor-in-chief of The Penn Stater magazine and other alumni publications, including the biographical presentation booklets for the annual Distinguished Alumni and Lion's Paw award programs. In 1992 The Penn Stater earned first-place honors in Pennsylvania and subsequently a third-place national award in competition sponsored by the National Federation of Press Women. She also was recognized with the Professional Excellence award of Penn State's Division of Development and University Relations in 1991. In retirement she published a memoir for her family.
A member of Kappa Kappa Gamma, national social fraternity for women, Donna had served as president of its State College alumnae society and had been a longtime adviser to the active chapter on campus. She also served for three years as Beta Province Director of Chapters, responsible for the collegiate chapters at that time of Penn State, Allegheny, Bucknell, Carnegie Mellon and the universities of Pennsylvania, Pittsburgh and Connecticut. She was invited to give the keynote address at Kappa's participation in Penn State's first Greek reunion.
Locally, Donna, a lifelong resident of Bellefonte, chaired the first membership campaign for what was then the Bellefonte Museum for Centre County, now its Art Museum, and served as curator for its 1998 Victorian Christmas exhibit, Mini Magic: The Wonder of Dollhouses and Other Wee Fantasies. An amateur miniaturist herself, Donna created dolls, furniture, houses and a variety of polymer clay items in 1:12 scale.
She was a charter member of Bellefonte's Tourism Commission and took a leadership role in producing its Victorian Bellefonte brochure, distributed at travel centers throughout the state to promote the community's architectural and tourist attractions. She also helped design and promote Bellefonte's Lamplighter Tours to explore the town's mysterious sites of yesteryear during the Halloween season. On several occasions she was recruited by Ollie and its predecessor to teach bridge lessons to would-be card players.
For the first 19 years of her retirement, Donna and her husband operated The Garret bed and breakfast in their antebellum home on west Linn Street, one of the sites featured on Bellefonte's Bicentennial Homes Tour in 1995. Beginning in 1972 the house was a frequent stop on homes tours sponsored by the Bellefonte Woman's Club and the Victorian Christmas. The Clemsons closed up shop and downsized, moving to Amberleigh in 2009.
Donna considered her crowning achievement to be her five children, three sons and two daughters who survive: F. Christopher (Cindy Moyer), Murray, KY; Andrew G. (Wendy Baney), State College; Kirk D. (Lisa Park), Bellefonte; Leslee Torsell (Dan), Leadville, CO; and Dr. Angélique Clemson, Lewistown. Also surviving are 13 grandchildren; eight great-grandchildren; brother, Harry of Honolulu, and nieces and nephews. She was preceded in death by her parents and an infant brother, Kenneth Alan Symmonds.
In lieu of flowers, Donna has requested charitable donations to the following charities that are dear to her heart: The Kappa Kappa Gamma Foundation; the Penn State Dance Marathon, and St. Jude Children's Research Hospital.