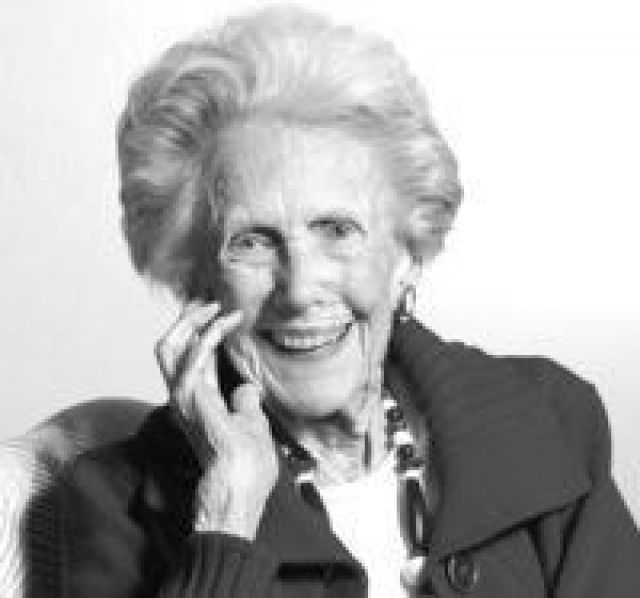 Leslie Lewis Montz, 100, passed away peacefully at her football season home in State College on Sunday, Oct. 24, 2021.
Montz was a resident of Fountain Valley, California, where she lived with her daughter, Barbara. Leslie will especially be missed for her wit and ability to tell it like it is. She was a leader, mentor, entertainer, and fun to be around.
Born in New York City, she was the daughter of Andrew M. and Eleanor Leslie Lewis of Rutherford, New Jersey. Leslie was a child of the Great Depression, a Penn State coed at age 16, a new bride in World War II, a mother of two Baby Boomers and a lover of all things Penn State.
Leslie loved the stage, and her youth was spent dancing and singing at recitals and later with the Thespians at Penn State. Leslie graduated from Penn State in 1941 with a degree in journalism. She married fellow Penn State graduate Ensign Robert Wayne Montz in 1943 and while her husband served in the Navy, Leslie spent time in California. A fond memory was taking dictation from Bing Crosby so he could have written lyrics for a radio performance.
The family settled in Abington, Pennsylvania, and Leslie became involved in the community. She served as President of AAUW, the PTA, VP of the Suburban PR Club, president of Republican Women of Abington Township, served on the Penn State Alumni Council, and was president of the Montgomery County Penn State Alumni Association.
Her early working career was in public relations and advertising. She was later with the public information office of the Penn State Ogontz Campus (now Penn State Abington) from 1959 to 1979.
Leslie was most proud of being the first woman elected to the Abington Township Board of Commissioners. From 1976-1982 she was responsible for public health, public works and school board relations. She was vice oresident of the board before she and her husband retired to State College.
In State College she continued her public service as a member of the Ferguson Township Planning Commission, adviser to the Kappa Alpha Theta sorority, and as a member in the State College Woman's Club and AAUW.
Leslie moved to Fountain Valley California in 2003 to live with her daughter. Leslie immediately started volunteering and joined local organizations including: Friends of the Library, the Historical Society, the FV Woman's Club, and AAUW. She actively offered advice at Fountain Valley City Council Meetings.
During the fall she lived in State College, cheering on the Penn State Nittany Lions.
Leslie is survived by her son, Andrew C. Montz of Granville, Ohio. and daughter Barbara J. Montz of Fountain Valley, California, and her sister Joy Lewis of Granville, Ohio, three grandchildren, and three great grandchildren.
Preceding her in death were her husband Robert W. Montz and her sister, Andrea Lewis Lindzey.